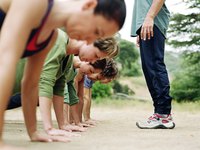 Being in shape is beneficial to everyone at every age. Just because you're 50 does not mean that you can't start now to get the body you've always dreamed of. Fifty is not old, so don't feel like it's impossible to change your diet and exercise habits. Getting in shape requires motivation that comes in many forms, whether it is for others or for yourself.
Health Reasons
One motivation for getting in shape is for your health. Working out and having a well-balanced, nutritious diet contributes greatly to the quality of your health. A constant workout routine improves your cardiovascular system by reducing the risk of a heart attack, stroke and high blood pressure. Exercise also helps prevent osteoporosis by increasing bone density, boosts your immune system and decreases your chances of developing certain cancers and diabetes. A nutritious diet including vegetables, fruits, fish, nuts and whole grains also reduces your risk of diseases and health problems, such as heart disease and diabetes. Vegetables such as spinach and carrots help protect and improve your cardiovascular health and vision, while fruits such as oranges help decrease your cholesterol.

Family Motivation
Another motivation that should trigger you to get into shape is for your family. Your risk for diseases, like heart disease, increases with age. Although 50 is not old, you should want to do your best to avoid these diseases. To get started, think about your family. You don't want to miss your children's weddings, your grandchildren's births, and the joy of being a grandmother. It's better to start getting in shape right now than to regret it in the future.
Self-Confidence
The main reason you should want to start getting in shape is simply for yourself. Putting yourself first in this instance is not selfish at all. It's your body, and you have every right to be in the shape you want to be. Once you get started and see results, your self-confidence will start improving. Higher self-esteem puts you in a better mood and allows you to feel accomplished. It will also help you continue your newly developed eating habits and workouts.

Reduce Stress
Although stress comes from a variety of problems, working out can help to alleviate your stress regardless of its source. Being physically active increases endorphins in the brain that allow you to feel happy and less depressed. Exercise helps you to focus your mind on your goals and forget about your stress factors. The more you stay focused on getting in shape, the less time you'll have to worry about other issues, and the less time you'll stress over your body because of the results you will see.