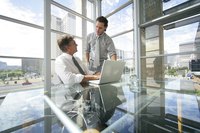 Workers' compensation insurance provides coverage for on-the-job injuries to employees. Any business with one or more employees who are not owners of the business must get workers' comp coverage that meets the requirements of the state where the company is located. In general, corporate officers are employees and would be covered by the policy. There may be an exception if the corporate ownership meets certain criteria.
Business-Owner Coverage
The general rule for small businesses is that owners of a sole proprietorship, partnership or limited liability company do not need to cover themselves under workers' comp insurance. When a business is a corporation, the state rules often allow a corporation that looks like a small business with limited ownership to follow the same choice to exempt owner-officers from coverage. However, the rules in many states are more restrictive when allowing corporate officers to opt out compared to partners or LLC members.
State-by-State Exception Rules
Typically, a state allows corporate officers who are majority owners of a corporation to opt out of workers' comp insurance. Individual states set limits on officer exemptions. One way states go is to allow the exemption if the corporation has two or fewer owners who are the only officers. Other states require the corporate officers to own a minimum percentage of the company, such as 10 or 25 percent. The only way to know for sure if the officers of your corporation can be exempt from the coverage is to check the state laws or consult with an insurance professional.
Owner vs Employee
In every case, a corporate officer who is not also a significant owner in the company cannot be exempted from workers' comp coverage. An officer of this type is an employee of the company and must be covered by workers' comp insurance like any other employee. With a corporation, the state coverage rules focus more on ownership stake than job title concerning the potential to opt out of workers' comp coverage.
Reasons to Carry Coverage
For a small business corporation, there may be good reasons to include the owner-officers in the company's workers' comp coverage. If the officers are involved in the actual operations of the business, the insurance provides an additional level of protection. In some industries, such as construction, if your company wants to do sub-contract work for a larger company, that primary contractor may require that everyone who goes to a job site be covered by workers' comp.