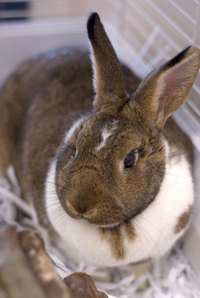 Owning a disabled pet can be a demanding challenge, but it is infinitely rewarding. Blind rabbits, for example, present a very particular set of needs that must be met in order to thrive. If you own a blind rabbit, ensuring that it has a safe environment, proper stimulation, human interaction and animal companionship will help it stay happy and healthy.
Environment
Your blind rabbit's hutch or cage will provide a safe, familiar haven in which he can live and rest. In order to be able to maneuver around its hutch or cage, a blind rabbit will have to memorize the living space's layout. To help your rabbit with this, keep the hutch or cage's layout as consistent as possible. The placement of the food, water and litter box should remain the same and provide easy access for your blind rabbit. Check that the hutch or cage doesn't have any sharp edges or protruding objects on which the rabbit, who will rely on feeling around its cage with his nose and paws, can hurt himself.
Stimulation
Your blind rabbit will need help receiving stimulation since he will be unable to find it himself. Easy-to-find, easy-to-use toys are what you need to engage a rabbit in stimulating activity. Toys that roll, hang or make sounds will be easy for your blind rabbit to find and play with. Toys that simply lay on the floor or don't make sound will be more difficult, and possibly frustrating, for a blind rabbit to find. Chewing toys -- such as twigs or rabbit chew blocks -- are important stimulants for a blind rabbit, as they engage her sensory skills. Not only will chewing toys help engage your rabbit, but they will help him file down his teeth.
Interaction
Your blind rabbit will heavily rely on assurance from you to feel safe and comfortable. Not every rabbit will want to be held or cuddled. For any blind rabbit, though, verbal cues are important. Over time, your rabbit will become accustomed to your voice and your presence, and will come to find comfort in it. Let the rabbit know you are approaching his hutch or cage by gently telling him you're there. Then, allow the rabbit to be where activity takes place in your home -- but not where there are loud or scary noises. A rabbit -- blind or not -- will want to explore, so let yours do so safely under your care and supervision.
Companionship
If your blind rabbit doesn't already have a companion, consider getting one for him. Another calm, gentle rabbit can be a great comfort to your blind bunny. Having a companion of his own species will be a great comfort to him, and the second rabbit can help your blind rabbit stay mentally stimulated. The companion rabbis should be of opposite sex, should be spayed or neutered, should be gentle and calm in disposition and possibly should be older in age. Once you bring home your rabbit's new companion, carefully observe your rabbits' interactions with each other to ensure a good match.