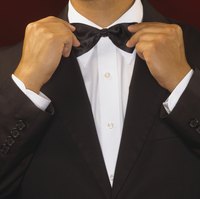 Bow ties have resurfaced in fashion. No longer reserved for professors or James Bond, bow ties are sported as everyday street fashion, albeit they still hold their spot at formal events such as weddings. To make the look work for you, know what shirts to pair with a bow tie and how to appropriately style the look.
Appropriate Shirt Collars
Know what collar is appropriate with a bow tie. The French collar is the basic collar and standard style to wear with bow ties. The narrow collar -- a collar about half the length of the French collar -- is less common for men, but its petite frame pairs well with bow ties. The Claudine is similar to the narrow, except that it has a rounded edge. Wear this style with a slim or normal bow tie to avoid hiding the collar's rounded edges. Wear a winged collar -- narrow collars with edges that tip up -- when wearing a tuxedo at black-tie events.

The Right Proportions
Keep in mind that the size of your bow tie compared to your neck should neither be too small or too large; so it's important to consider your size. Larger builds can handle larger ties, but smaller frames look overwhelmed in gigantic bow ties. Butterfly ties -- larger bow ties -- look best on men with wider and shorter necks. Bat-wing bows -- smaller and skinnier bow ties -- look best on men with narrow and long necks.

Wearing Colors and Patterns
Wear bold colors and patterns, but stock up on your basic colors first. Black, white and silver are classics acceptable for formal occasions. Black is worn for black tie and white is worn for white-tie dress codes. Silver is an alternative when black feels too formal for day. Bright colors and patterns can be also be worn during the day to make a statement. Choose colors that complement and match your shirt. A blue-striped shirt looks appropriate with a blue patterned tie. Or, wear a bold pattern with a white button-down to draw attention to your tie.

It's About the Occasion
Black-tie events have their own dress code rules and the bow tie must be black in a material that matches the tuxedo jacket lapels. But when you're in a more casual environment, feel free to experiment with colors, patterns and shapes; and add in other elements of old-fashioned style with suspenders or a newsboy cap.