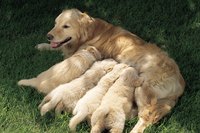 A newborn puppy is entirely dependent on his mother for the first few weeks of life. During this time period, it is normal for puppies to yelp when they are in need of warmth, food and attention. Providing these few needs to a puppy should stop the puppy from yelping. If your newborn puppy is continuously yelping, however, it may be a sign that he is in distress, in which case you need to further intervene to address the cause of the yelping.
Mother Rejection
As is the case of many animal species, not all canine mothers accept their newborns, occasionally rejecting the weakest member of her litter. If a newborn puppy is yelping because his mother will not allow him to feed (or cannot produce enough milk for him to feed), then you will have to feed the puppy in order to provide him with enough sustenance to stay alive, as well as stop him from yelping. Consult a vet about the best canine milk replacement formula you should purchase, which may depend on the dog's breed. After you purchase the milk replacement formula, you will need to feed the puppy first from a syringe every few hours for three weeks, followed by bottle-feeding every few hours for three additional weeks, supplemented by dry puppy kibble.
Warmth
Another common reason for newborn puppies to yelp is if they are cold. If the mother has not rejected the puppy, he may simply be yelping because he was separated from the mother and pack, and with his eyes still closed, can't make it back to the warmth of the group. Gently pick up the newborn and place him back with his mother, which is also a good opportunity to place him directly on one of her nipples so he can feed. If his mother has rejected him, then you need to keep the puppy warm for at least his first two to three weeks of life. Wrap the puppy in a towel and place a warm (not hot) water bottle next to the towel to transfer heat. A heating pad with a low to warm setting would also suffice.
Crying in the Crate
A puppy who has been weaned from his mother may also regularly yelp, especially when separated from a new owner. This typically happens during the first few days or nights of crate training. Because puppies often yelp or cry because of something that they see, try covering all but the front of the crate with a cloth sheet. This emulates a den, and may provide comfort for your young puppy. Don't forget that when you let your puppy out of the crate, lead him outside immediately. This will reinforce the crate training by teaching him to wait until he is outside to relieve himself.
Patience
A very young puppy will yelp when left alone, which is an instinctual signal to alert his pack that he needs help. But unless your puppy's yelping becomes incessant or sounds as if he is in extreme distress, it's best to let him experience the separation and settle down on his own. If you always respond to your new puppy's yelping, you are essentially training your puppy to use his voice to get what he wants from you. Over time, a puppy's separation anxiety -- and yelping -- should diminish.
When to Call the Vet
If a newborn puppy in your care or in his mother's care continues to yelp, even after he is fed, warm and has the proper attention, the yelping may be an indication of an underlying medical problem. Immediately contact your vet and schedule a visit to rule out a medical emergency as the cause of the yelping.