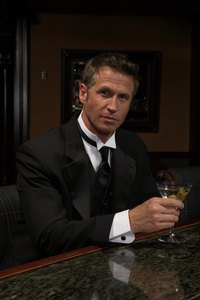 Vests are worn by men and women to not only provide warmth and comfort, but also to add variety, texture and color to outfits. Women's vests are usually full vests -- vests that are sewn, woven, knitted or crocheted of the same fabric or thread on both the back and front. Men's vests can be full -- for wearing with or without a jacket or coat -- or backless, for wearing under a tuxedo or outer coat that likely won't be removed.
Full Vest Characteristics
Full vests cover the wearer's front and back and can be worn instead of a suit coat or jacket or as a component of a three-piece suit. They can be made of the same fabric throughout, or they can be made with a comfort backing. A full vest with a comfort backing features a lighter fabric on the vest back -- usually silk, cotton or polyester blends -- to reduce bulk when worn under a coat or jacket.
Backless Vest Characteristics
Backless vests are almost always worn under a suit coat or tuxedo coat that will not be removed during wear. A backless vest has a standard vest front but instead of a full back, has a strip of material to hold it at the neck in a halter fashion as well as an adjustable waist band. It completes a formal look without the added bulk for the wearer. A backless vest can also reduce or prevent perspiration.
Fabric Choices
Full vests can be made of any fabric, including those of menswear suits, denim, cotton or canvas. They can also be made of suede or leather. Full vests can also be woven, knitted or crocheted or made of down or down-alternatives. Backless vests are almost always made of tuxedo fabrics, such as silk, worsted wool or linen because they are worn in conjunction with matching or similar formal wear and not by themselves.
Wearing Options
Backless vests are mostly for formal wear. Full vests offer more choices. They can be worn as a component of a three-piece suit or with just menswear trousers and a dress shirt, for a less formal, yet still professional look. A suede or leather version can be worn over a button-down shirt and jeans for a polished, yet casual look or to add pizazz to an otherwise plain T-shirt and jeans ensemble.