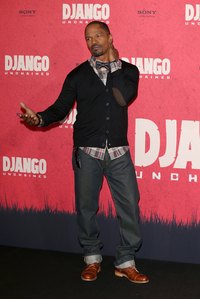 The bow tie is back in fashion and more versatile than ever. Previously saved for tuxedos and formal suits, new trends in the modern day bow tie are colorful, eccentric and hip. They are perfectly kosher to wear with dressed-down outfits, including jeans, for a casual, cool style. The shoes you should wear depends on the color of your bow tie and the style of your pants.
Black Tie Attire
Even though bow ties are showing up with everything from sweaters to khakis, the bow tie is still the classic choice for accessorizing a tuxedo or formal suit. Be sure your bow tie and shoes match in both color and formality -- it's called black tie for a reason. Keep your style classic with a dark silk or satin bow tie and black patent leather dress shoes. A charcoal gray suit is an alternative to the traditional black suit and equally as stylish for a formal affair. Wear it with a matching gray wool and cashmere blend bow tie and black lace-up patent leather loafers.

Bow Ties and Suits
Add a bow tie and a pair of suspenders to a basic neutral suit and you've made an instant style statement. To coordinate your outfit perfectly, match your bow tie with your shoes and your suspenders with your suit. A pair of leather wingtip lace-up brogues are a superb style choice for a bow tie and slender suit. Use a colorful, patterned bow tie to add texture and vibrancy to an otherwise monochromatic outfit. Start with a navy blue fitted, one-button suit; add a chambray button-down shirt and navy blue suspenders. Add a gold or yellow plaid bow tie, and wear either black suede Oxfords, red-brown leather ankle boots or a monk-strap loafer to finish off this extremely stylish outfit.
Bow Ties and Jeans
The newest take on the bow tie trend is to wear one with jeans for a preppy-chic look. If you're doing jeans and a bow tie sans a jacket or replacing the suit jacket with a button-down or pull-over sweater, wear shoes that are moderately dressy and not too casual to balance the look. Choose jeans that are made from dark or raw denim and a straight-leg to slender fit for cleaner lines. A pair of suede or smooth leather ankle boots as well as Oxfords with chunky heels are appropriate style matches to this jeans and tie outfit. If you are wearing a bow tie, jeans and a blazer instead of a suit, keep your style tight and dressy. Wear lace-up shoes, such as a leather Oxford or a lace-up loafer, a pair of cuffed-once, dark wash jeans and a dark blazer to avoid a disjointed look.
Bow Tie Don'ts
The new bow tie fashion allows you to get away with wearing more vibrant colors, graphic and geometric patterns and more playful styles, but keep your shoes classic to avoid looking like a caricature. For example, if you're wearing a pair of cropped and cuffed trousers, suspenders and boat shoes, go without a bow tie or your outfit runs the risk of looking like a costume. Also don't try to pull off the blue jeans and tennis shoe combination with your bow tie outfit. If you need to achieve a casual-cool style, wear a dark canvas lace-up sneaker with slender cut chinos, a short-sleeve button-down and a playful cotton bow tie. Get the most stylish impact out of your bow tie by wearing it with a tailored neutral suit, dark denim, clean-cut trousers and stylish leather dress shoes.