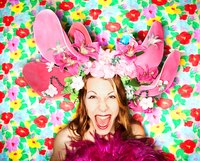 Senior prom marks the end of high school for thousands of teenagers every year. But while the prom may end at midnight, the night is hardly over. Some prom-goers stay out into the wee morning hours going to other parties or houses, changing clothes and having a new party of their own. If the late-night antics call for crazy clothing, check out these apparel options that will bring even more punch to your already exciting night.
Hollywood Theme Party
Sport a funny hairstyle, such as a mullet, and dress up as musicians Billy Ray Cyrus or David Bowie. Or, choose an actress or actor currently in the news for misbehavior, such as singer Justin Bieber or actress Amanda Bynes, and add a comical element to the outfit that pokes fun at their recent antics. Dressing as a legendary star, such as Marilyn Monroe with her flirty dress or Elvis Presley and his cool guitar, with a modern twist like a cell phone or MP3 Player in hand, will have you hitting the high notes with your friends.
Who Am I?
Go crazy with peer or faculty impersonations and watch as the laughs roll in. If your biology teacher was notorious for wearing too-small sweaters or messy hair, emulate her with an outfit of your own. Think of clothing items that best represent the person on a typical day, exaggerate the funny parts and have fun adding comical details, such as a coffee-stained shirt for the janitor or a holiday-themed sweater she sported at every occasion.
Era Clothing
Choose a time period in which everyone dresses up. Research decades, such as the 1980s, and wear neon colors, mesh gloves, cinched pants and popped-collared polos; or the 1950s, when everyone wore leather jackets, slick-back hairstyles, white T-shirts and jeans. Make fun of a decade's pop culture, like today's tech-obsessed society, by stringing cell phones from your pants, a PDA, headphones, ear buds, a portable gaming system and a camera from your shirt. The key to making your era outfit crazy is to exaggerate the details with cool finds from flea markets and second-hand stores.
Color Splash
Nothing says there's sunny academic skies ahead more than a bright outfit. Wear a head-to-toe rainbow outfit, highlighter colors in your hair or a rainbow clown wig. Or, paint a colorful face with your graduation date. The more colorful the better -- this is your night to be outrageous and shine. Choose school colors, your favorite sport's team hues or a dizzying pattern of black, white and red.