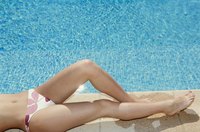 If you want to be hair-free, waxing is an ideal way to go. Waxing leaves your body smooth for weeks longer than shaving and also helps to thin hair over time. Visiting a salon regularly takes time and money. If you're thinking about skipping the professional treatment to do your waxing yourself, learn the pros and cons of each before making your decision.
Cost
One of the more noticeable differences between at-home and salon waxing is the cost. At a salon, you're not only paying for the wax, you're also paying for the service. At home, you're only spending money on the product. This means that, typically, at-home waxing will cost less than salon treatments, which means more cash left over for you.
Learning Curve
Waxers have been trained and know what they're doing, so you have a better chance of getting a full wax with no harmful irritation or rashes. Waxing on your own can be a bit dicier. At home you'll have to worry about getting the temperature of your wax right -- too cold and it won't work, too hot and it could burn. You'll also have to concern yourself with technique. If you do your wax yourself, apply it in the direction your hair grows and remove it opposite that direction.
Be Careful
Professionals will generally be able to get rid of hair efficiently on the first try. A novice may not be able to pull this off. If you are left with a few stray hairs after your at-home wax, tweeze them, don't wax them again, as this can cause damage. Also, be sure to wax at the right time. You'll want to have at least 1/4 inch of hair before waxing and won't want to wax your bikini area a few days before or after your period, as that area will be especially sensitive during that time due to hormones.
The Area You're Waxing
Some areas, like legs, are a bit less scary to try on your own. On the other hand, waxing your bikini area -- because the skin is more sensitive -- can be a bit tougher. Because that area is sensitive, if you make a mistake, you'll feel it. This is especially true of more invasive procedures like Brazilian waxes in which all the hair is removed. For areas like this, unless you really know what you're doing, it's safer to leave it to the professionals.
Overall
As long as you take the proper precautions, there's no reason that you can't wax at home if you'd prefer. Again, Brazilian bikini waxes at home generally aren't advisable, but any other area -- as long as you wax properly -- should be perfectly safe, though may not be as effective as salon treatments.