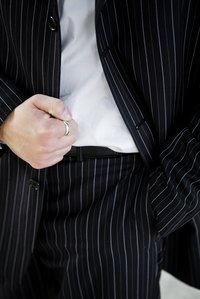 A black pinstripe suit can serve as an alternative to the basic black suit. The look can be casual or formal depending on what pieces you pair with it. When choosing a collared shirt to wear underneath, you can stick with the basics or add a little swagger and individuality with a bold color or pattern. Take a little time to know the rules to look tailored and appropriate in your collared shirt and suit.
A White Dress Shirt Is Never Wrong
Embrace the white button-down shirt as this style is the safest shirting option for virtually any suit style and any occasion. Bear in mind that however sleek and tailored your suit, an ill-fitting shirt can ruin a look. Ensure that the shoulder seams hug your shoulders, the sleeves reach just past your wrists when buttoned and that one finger fits between your collar and neck.

Go Colorful or Keep It Tonal
Try a brightly colored button-down if you've opted for a micro-striped suit. By choosing a demure stripe, you have more freedom to wear a bold colored shirt as the focal point of your outfit. Nearly any color -- pink, blue, red -- pairs well with black; navy is the exception as it is too similar in tone to black. If the stripes on your suit are wider and bolder, choose soft greys, charcoals or blues to keep your look simple and office appropriate.

Embrace a Patterned Button-Down
Do not be afraid to mix your patterns. To make this look work, you'll want your button-down shirt pattern to be horizontal, diagonal or vertical stripes to match your suit. Do not wear polka dots, florals, or graphic prints, and ensure that the patterns on your shirt are variations of the pinstripe, checks, or plaids. Choose patterns that are a different size to avoid an outfit that overwhelms. If your suit features a larger pinstripe, choose a shirt with a smaller pattern to avoid a look that is too busy.

Try the Polo Shirt
Draw inspiration from Britain's sporting legacy and wear a pinstripe suit with a polo shirt for casual occasions. Wear this classic style with a pique polo shirt in a color that complements your black suit, such as white, grey, or blue. Seasoned fashion sleuths can try a shirt with a horizontal stripe or in a bolder color.