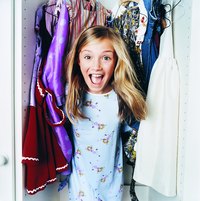 Little girls of Latin descent dream of their coming-of-age birthday party referred to as the quinceañera. In most Latin cultures, fifteen is the magical age that represents a young girl's rite of passage into young womanhood. Families gather and witness the quinceañera mass followed by the birthday bash. After rehearsing months in advance, the quinceañera celebrant prepares her special entrance, in which she's escorted by her parents and followed by choreographed dance routines with her court of close friends and family. The guest list includes 'tween girls dreaming of their special day. Choosing an ensemble that combines fit, color and theme will ensure an unforgettable evening for any preteen.
Preteen Styles
Certain apparel companies have broken away from the norm and have developed specific age appropriate styling for this sensitive preteen age, ranging from eight to 12. Since 12-year-olds are borderline teenagers, remember when shopping for the party outfit to select age appropriate attire for the event. Avoid showing too much skin with styles such as ultra miniskirts or plunging necklines that can cause wardrobe malfunctions along with a distraction for the quinceañera.
Fit and Fashion
Dancing is at the top of the list for any preteen attending a quinceañera, so make sure the dress is in the right size for a worry-free evening. Try on the dress or skirt ensemble and conduct a fit test at home or in the dressing room. Raise your arms in front of a full-length mirror. If the top rides up at the side seams or drops around the chest, this is not the appropriate fit or size. Continue the fit test by sitting in a chair and bend to touch your ankles. Skirts that hike up at the side seams indicate that it is not the right size. Take the fit test one-step further and try on your shoes. Play music and dance in your bedroom, checking your feet for any discomfort or loose straps.
Color and Theme
Since quinceañera events have grown into theme-related celebrations, it is important to choose the appropriate dress color. Look at the color scheme on your invitation and use it as a guide when selecting the dress. Since the quinceañera celebrant is the star of the show, avoid wearing the same color as her gown. For theme-related quinceañeras, choose styles that fall within the theme. For example, for Broadway or formal-themed celebrations, choose a beaded or sequined bodice on a one-shoulder dress style with a full skirt. Most preteen one-shoulder dresses have an added security strap on the opposite shoulder.
Preteen Dress Ideas
As a guest at a traditional quinceañera, do not be afraid to glam up your dress. Pair an elegant shrug with a strapless dress and full Cinderella-like skirt. Other full skirt ideas include contrast linings, ruffled flounces and lace edges. Avoid this style in an ankle length, which can detract from the quinceañera ball gown. Less formal parties may allow guests to wear denim such as dark wash jeans with a glitter-coated finish. Pair it with an embellished dress blouse and skip the glitter T-shirt. Remember, the quinceañera is the star of the quince bash, just like you will be very soon.