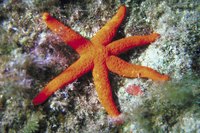 Living corals add color and vibrancy to any saltwater reef aquarium unless disease and bacteria invade the corals. Since the first study of coral disease in the late 1970s, approximately 30 diseases have been recognized by scientists. Black band disease is one reef owners battle with either soft or stony coral varieties.
Cause
There are several different varities of bacteria present on corals at pretty much all times; sometimes the bacteria that cause black band disease live on the corals. The often fatal black band disease, or black line disease, is caused by the cyanobacteria Phormidicum corallyticum and Oscillatoria, according to Reefs.org. When the bacteria metabolize food, the product from the metabolite is toxic to the corals, causing normally vibrant tissue to die.
Appearance
A coral infected with cyanobacteria that cause black band disease develops a dark line around it that is between 5 and 40 millimeters wide. The front side of the coral generally appears vibrant and healthy while the back side is white, or dead. The band may spread across an infected coral at up to 4 millimeters per day, according to the CRC Reef website.
Treatment
Treatment for black line disease in corals is not like treating sick fish in your tank. There is no medication available to treat the bacteria as of 2013. Therefore, the best treatment is to remove the infected sections of coral. Frag or prune the corals by cutting the dead parts of the coral -- the part covered with a black line -- off with a pair of scissors. This removes the threat of the disease for healthy corals.
Prevention
Since stress in corals causes black band disease to take over, keeping your corals free from stress helps them fight infestation. Cyanobacteria thrive in higher water temperatures -- so keep the tank below 78 degrees to prevents their growth. Also, keep the nitrate levels below 5 ppm and phosphate levels below 0.5 ppm to create a healthy environment for the corals. The pH should remain between 7.8 and 8 to keep the coral stress free.