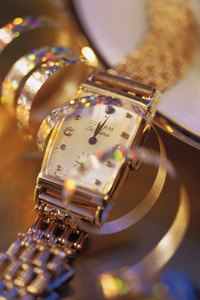 For the girl who wants to be well-dressed on every occasion, a chic piece of sparkle on the ears, neck and the wrist adds polish to every outfit. If you've ever wondered what type of jewelry you'll need for work, play or holiday dress-up, a select wardrobe of classic jewels and bright baubles will complement every outfit from a T-shirt and jeans to a little black cocktail dress and pumps.
Pendant Necklace
A pendant necklace is a delicate and dainty piece of jewelry appropriate for business suits and ball gowns. For work, choose a slender chain with a petite charm to complement V-necks and button-down blouses. For evenings, a gold chain featuring a diminutive pearl or colored gemstone is a subtle accent for a gold lame pantsuit or a long-sleeved, cream column dress.
Bangles or Cuff Bracelets
To update your favorite silk dress or rayon sleeveless jumpsuit, wear a bold cuff or an armful of bangles for daytime or evening. To avoid looking matchy-matchy, don't wear arm jewelry that is the same color as your outfit. Give an understated black, white or navy sheath dress a kick of color with a hot pink or red resin cuff or three or four green, turquoise and silver beaded bracelets.
Classic and Evening Watch
A timepiece with a small face and a leather strap is the epitome of simplicity and elegance. For work, wear this watch with your stud earrings and a pendant necklace to add professional polish to your pencil skirts, blouses and pantsuits. Packing more high-wattage style than a basic 9 to 5 timekeeper, a bejeweled silver or gold watch, with a sprinkle of Swarovski crystals on the bezel is the perfect accent to a sleek party dress and a pair of sky-high heels for a night out.
Diamond or Cubic Zirconia Studs and Hoop Earrings
If you can afford pricey diamonds studs, wear them with your turtlenecks in the fall and your silk sheath dresses in the summer. While diamonds are a girl's best friend, a cubic zirconia earring is an affordable and chic diamond stud alternative that won't break the bank. A big hoop gold or silver earring is a minimalist accessory perfect for denim and casual shirts and spaghetti-strapped sundresses.
Pearls or Long Chain Necklaces
When worn with dresses and suits, a 16-inch pearl, silver or gold necklace takes your basic work wear from blah to boring in an instant. For major impact, think multiple strands. Drape a mixture of pearl strands and gold chains around your neck to unleash your inner Coco Chanel. In the fall, pair your long necklaces with crewneck tops and V-neck wrap dresses.
Cocktail Rings
Extravagant and glamorous, wear a bold and oversized cocktail ring as a sophisticated exclamation point to an evening outfit. To add a pop of pretty to your favorite party clothes, slip a jewel-encrusted ring on your ring finger. Finish off your look with stud earrings and a pair of pumps that match the colors featured in your statement ring.