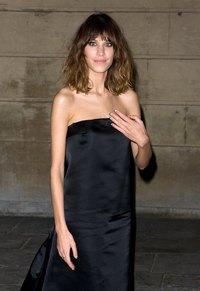 Let your inner rock goddess out by sporting a shaggy punk hairstyle. There's a punk look for any type of hair, but if you have shoulder-length locks, you'll be happy to know that you have a lot of options. Whether you want something slightly edgy or all-the-way punk, there's a bevy of looks that will make you stand out in the crowd.
Bedhead
Bedhead hair is the perfect way to look like you don't care about your look but still come off as fashionable. Hair can either have a slight tousle for a more subtle effect, or can be downright messy if you want to go really punk. Tousled hair works with and without bangs, so pick the cut that best frames your face, and sport your easy, bedhead style.
Colored Streaks
Take your punk look to the next level by adding streaks of color to your locks. Colored streaks give shaggy hair a whole new depth. Any color you like will do. Try blue, green or purple, or go more subtle with a peach shade. Feel free to mix and match as well if you prefer to sport more than one hue at one time.
Dip Dyed
Another playful way to rock some color is to have just the ends of your hair dyed so it looks like they've been dipped in a saturated hue. This works for bright shades, but also looks really in-your-face with darker colors like black. If you're blonde, the difference will be really noticeable. Natural shades work here too if you want to be a bit more subtle. How extreme you go is really up to you.
Buzz Cut
Get extreme and shave the side of your hair, leaving the other side to hang loose and shaggy. Shave a small section right above the ear or get really bold and shave the entire side of your head. If you're not that committed to the punk look, skip the shave and instead, slick back one side of the hair and bobby pin it in place for a similar style.