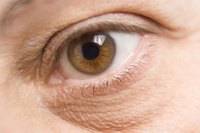 Long-time beauty industry executive and author David Pollock explains that our three layers of skin are made of many components, including proteins and lipids. The dermis is the undermost layer of skin. This is where most wrinkles occur and where "we find collagen and elastin, proteins that create a support matrix giving the skin elasticity and firmness," says Pollock. Loss of elastin occurs during age, but can also be effected by alcohol, smoking, nutrition and exercise. Three skin care experts discuss elastin eye creams.
Elastin is Solely Responsible for the Flexibility of Our Skin
A naturally occurring protein in our skin, elastin is 100 percent responsible for flexibility in our skin. Elastin works in tandem with collagen, which is responsible for plumpness. According to esthetician Jaclyn Peresetsky, eye cream products that include elastin as an ingredient are using proteins "not from human sources; they typically are harvested from either cows or birds and in theory should promote better skin elasticity."
The Body Naturally Loses Elastin with Age
Peresetsky explains that once the body loses elastin, it cannot be replaced. Elastin is like the springs of a mattress, once they have lost their "snap-back factor" it cannot be reversed. Beginning at age 28, the body begins to lose elastin and hits its peak during menopause. Peresetsky says that some of her menopausal clients will notice sagging, which is a symptom of elastin loss, "over-night." Board certified dermatologist and American Academy of Dermatology Fellow, Dr. Pearl E. Grimes noted during an interview, "loss of elastin is a key feature of photo-aged and intrinsically aged skin."
Elastin Alone Isn't Effective As an Anti-Aging Product
Experts agree that eye creams that rely on elastin alone may not provide the anti-aging results the consumer wants. "Controversy still surrounds the use of elastin products given the size of the molecule and whether it penetrates to appropriate depths in the skin to execute anti-aging effects," said Grimes. Pollock concurs, "While I am not a fan of simply adding collagen or elastin to products, I am a fan of supporting the end result. To do so, I would suggest products with high levels of hyaluronic acid, which is naturally present around the collagen and elastin cells -- plus is present in our skin and naturally helps bind water and provide skin volume." Peresetsky commented that elastin eye creams offer superficial hydration.
Ways to Boost Natural Elastin Levels In The Skin
"The only true effective ingredients that work to increase elastin in the skin are Retinol and/or peptides that are driven to go down into your skin and increase the elastin production in your fibroblast," advises Peresetsky. Grimes agrees, "For general facial aging, I most often recommend retinoid-based formulation."