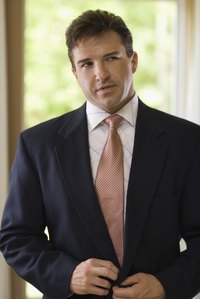 A well-fitting suit can display confidence, success and power; and how your suit jacket fits your shoulders can make all the difference. With both padded and natural shoulder suits on the market, it can be difficult to choose the right one for you. When deciding which option is best, take into consideration your body as well as the style.
Natural Shoulder
In a suit, a natural shoulder should contain minimum to no shoulder padding, allowing the jacket to fit your natural shape. A natural shoulder suit jacket will help define your shoulders and face, making you appear taller and slimmer. With less material than padded shoulders, natural shoulders don't add unnecessary bulk. Natural shoulders often look great on all body types.
Padded Shoulder
A padded shoulder jacket suit offers more structure, height and width to your shoulders. Padded shoulder jackets can sometimes make the wearer appear shorter, as they shorten the neck and add width to the body's frame. Additionally, padded shoulder's can sometimes appear dated, as they were more popular in vintage clothing.
For Wide, Broad Shoulders ...
Wear a natural shoulder suit jacket if you have wide, broad shoulders. Natural shoulders are great if they are squared off and fairly well defined. Be careful when selecting the correct width; if you choose one too large you will find the shoulders drooping down with no padding to support it.
For Uneven or Narrow Shoulders ...
Padded shoulders are great for men looking to fill out a little more. Adding structure to the jacket will help your shoulders appear broader and stronger looking. Start with minimal padding and build from there; too much and you can appear shorter and wider. If you're going with a padded shoulder jacket, get one in a dark, solid color and high-quality material; this is the best way to keep padded shoulders from looking dated.