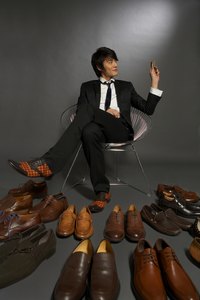 You can't do much about the size of your feet, but you can decide what to put on them. Longer and wider feet require extra consideration when it comes to choosing footwear, as the wrong selection can look silly and be painful to wear. Finding the right shoe might take a little trial and error, but as long as you stick to styles that naturally complement your big pigs, you'll be happier slipping them on each day.
Long and Narrow
If you have longer feet, you want to make sure you aren't selecting overly-elongated, narrow shoes. These designs -- often favored by Italian shoemakers -- run the risk of making your feet look way out of proportion with the rest of your body. A shoe or boot featuring a tasteful and subtle C-shaped toe eases that extreme pointed look, while reducing the visual effect of an extremely long foot. Such styles include classic captoes, wingtips or any shoe style featuring a gently rounded toebox.
Go Wide
Wide-footed individuals have the opposite problem as those with long, narrow feet. A wide foot makes it very tough to slip on the sleeker, more appealing styles on shoe racks. This is especially true with lace-ups, since wide feet force the lace bridge to comically widen as it approaches the ankle. Although simply purchasing a wide shoe is always an option, stock versions of dress boots and chukkas naturally mask the presence of a wider foot by maintaining a line of leather up the ankle. Many such boots are as comfortable as a pair of sneakers and polished as your finest wingtips.
Boxed Out
Many individuals have feet that aren't unusually wide, but might have an arthritic issue or joint deformity that makes selection of a shoe with a wider toebox a virtual necessity. Shoes with a squared-off toe tend to have a little more structure and shape around the area surrounding the balls of the feet, making them more comfortable. Shoes should feel snug -- but not tight -- around the toes and balls of the feet, while fitting normally around the rest of the foot. The good news is that virtually every major manufacturer has at least one style that fits this profile, so finding a comfortable and stylish shoe should not prove excessively challenging.
General Comfort
It might prove discouraging and tedious to seek out specific shoes to fit unusually wide or long feet. Fortunately, there are some classic styles that tend to work well without all the legwork. Mocassins, boat shoes and most leather and canvas sneakers are timeless and constructed in such a way as to stretch or at least conform to the foot without becoming constricting. In addition, multiple well-known shoe manufacturers such as Cole Haan, Ecco, Clark's and Birkenstock offer easy-to-find and relatively stylish options at any major mall or online.