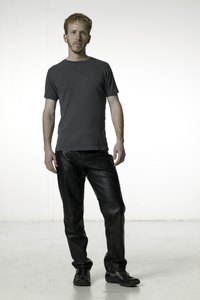 Leather pants come and go in the fashion world, even for men. Once upon a time, leather pants were exclusive to rock stars, such as David Bowie, Mick Jagger and Jim Morrison. Today, men who are bold can look stylish in leather pants. If you're serious about wearing them, follow a few guidelines to achieve the right look.
Time and Place
The first consideration is the time and place. Leather is best for cooler fall and winter months. Not only does leather help keep your legs warm, but the heavy material is most appropriate during these seasons. Warm weather can make you sweat and feel uncomfortable in leather pants. These types of pants also look best at night.
The Right Cut
Skinny-cut pants complement thin and tall frames, so explore other styles if you have a different body shape. Boot-cut pants are flattering on most men, because they balance out your hips, torso and your legs. Plus, boot-cut leather pants give you more choices in terms of footwear. Wide-leg trouser versions are an option if you prefer more room in the seat and legs, and they help balance out a wide chest and shoulders. For the best results, tuck skinny leather pants into a pair of boots.
Stretch it Out
Leather pants can be so tight-fitting that some versions are difficult to put on. Look at the tags and find leather pants with some spandex, which will stretch. Just 2 percent of the synthetic material can give you a little extra freedom of movement.
The Right Tops
Rock stars of the past paired ultra-tight leather pants with even tighter shirts. Unless you are a rock star yourself, this look is generally off-limits. Modernize your attire with leather pants paired with a graphic tee. The images, logos, animals and cartoon characters on a top can help balance the dramatic look of leather bottoms. If you're stuck on tight tees, wear a sleek jacket to give your appearance more dimension.
Be Honest
Leather pants are not a one-style-fits-all fashion choice. Try on many styles to fine the right pair for you. Match them with tops and shoes you already own to determine a particular pair's versatility in your wardrobe. If the pants don't fit -- you or your wardrobe -- you're better off choosing another rock star outfit that actually suits your stature. Buying leather isn't worth the cost if the pants end up sitting in your closet because you lack the confidence to wear them.