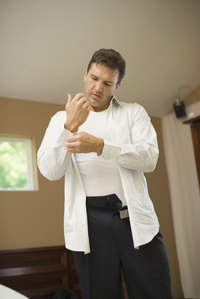 A dress shirt is a woven cotton button-up shirt with a collar, long sleeves and wrist cuffs. Worn alone, it can be the centrepiece of a man's outfit or enhance a jacket when worn underneath. Although there are various colors and patterns, there are two general types of fits: slim and standard (or regular). Choosing the right fit will ensure that you are properly dressed and comfortable for a board meeting or an evening event. Before deciding which fit is ideal for you, understand the differences and similarities between the two.
Location Matters
To compensate for the fact that the majority of Americans are overweight, American retailers generally design shirts with a wide, boxy cut. This the standard (or regular) dress shirt fit. Also, American fashion has long favored a sporty and baggy aesthetic towards clothing. Europeans have preferred a slimmer fit since the 1970's. Even if an European retailer alters their sizing to be more generous for the American market, their shirts are slimmer by comparison to standard American dress shirts. On the other end of the scale, if an American retailer produces a slim fit shirt, generally it's still boxier than their Italian or French counterparts.

The Design
Slim fit is also known as fitted or mod fit. It is designed with less additional fabric for a man's upper body. A slim fit will have a slim fit throughout the torso and arms. The standard-fit dress shirt is much looser on the body with 10cm of extra fabric added to the shirt. The main difference between the standard dress shirt and the slim fit dress shirt is that the slim fit closely follows the shape of thinner bodies.

Fits Are Always the Same
Ensure that your dress shirt has the right fit. Whether you've chosen a slim or standard dress shirt, the rules of fit are the same. To know your correct size, you'll need to measure the size of your neck and arm length. When trying the shirt on, place one finger between the collar and your neck to ensure that it's a comfortable fit. If two fingers fit, it's too large, and if you can't fit even one finger, then it's too small. Ensure that the shoulder seams hug the natural line of your shoulders and check that the sleeves reach just past your wrists when unbuttoned.

Comfortable vs. Style
Wear the regular fit dress shirt if comfort is your foremost concern when dressing. While the slim fit is not uncomfortable, it is generally believed that the standard fit is more flexible as the extra fabric allows for more flexibility. Wear the slim fit to appear sleek and slim. Do not shy away from a slim fit dress shirt if you have a bulkier frame. Whatever you're build -- slim, broad or round -- you can find a slim fit shirt designed to fit your body. Seek out a tailor to custom design a slim dress shirt for your measurements if you're not finding one off the rack. Wearing a slim fit instead of a regular fit can make your figure appear trimmer as billowy folds from a regular shirt only amplify a larger figure.