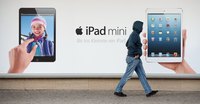 The late Steve Jobs was a master showman -- a modern day P.T. Barnum singing the praises of cutting-edge products that consumers simply had to have. A bit of the Apple magic may have eroded over the past few years, but the company has always done a good job at getting attention for its products through both conventional and nonconventional means.
Traditional Advertising Strategies
Apple doesn't need to advertise new products, according to Apple marketing chief Phil Schiller as reported in a 2012 New Statesman article. Schiller said that Apple no longer needs to do any advertising when a new product comes out, relying instead on two processes: the universally positive reviews it gets in the media, and product placement in TV and films. Despite this, Schiller conceded the company spent $97.5 million on iPhone ads in the U.S. alone in 2008.
Apple supports products after the initial launch with TV commercials and also utilizes billboards in major metropolitan areas. Its TV presence is greatly increased around holiday selling periods with product-specific spots. Apple isn't opposed to going after the competition as the "Get a Mac" image commercials that aired from May 2006 to October 2009 demonstrated. In 2010, Adweek declared "Get a Mac" to be the best advertising campaign of the first decade of the new century. Apple also supported the iPhone and iPad launches with substantial media buys across broadcast and print mediums.
Apple's Worldwide Developers Conference
Apple's Worldwide Developers Conference has been ground zero for Apple product launches and announcements for years. The annual event takes place in June and generates worldwide buzz. It is covered by hundreds of news organizations, tech blogs, and fans on a global level.
Apple announced a new mobile operating system -- iOS 7 -- in June 2013 at the WWDC, and displayed its uncanny ability to get out in front of an issue by announcing a "kill switch" in new iPhones that render the device useless to thieves. The announcement came just days before a scheduled conference with New York state Attorney General Eric Schneiderman and representatives from Samsung, Google and Microsoft to talk about combatting smartphone crimes. The positive press Apple received is priceless.
Product Placement
Product placement is a huge part of Apple's marketing and advertising strategy. Apple claims it never pays for product placement on TV shows, but according to a 2012 article in Business Insider, Apple is more than willing to hand out endless amounts of computers, iPhones and iPads for placement considerations. The article goes on to report that in 2011 Apple products appeared in 891 TV shows. This exposure brings Apple products into millions of homes at a fraction of the cost of a traditional TV adverting campaign.
Landing the Branding Message
Apple's advertising budget hit $1 billion dollars in fiscal 2012 according to a January 2013 article from CBS News. While this is a large expense, Apple is great at using low-cost marketing options that put its products in consumer's hearts and minds. Apple is all about branding; its products look similar, work well with each other and reach its core customer on an emotional level.