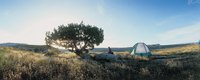 Interstate 76 runs for nearly 200 miles in Colorado, from Denver through the northeast corner of the state into Nebraska. The open plains and rolling hills along this route contrast with the towering peaks of the Rocky Mountains that characterize much of the state, but you'll find scenic places where you can pitch your tent and fish, boat or hike near picturesque reservoirs and wildlife areas.
Near Denver
Barr Lake State Park in Brighton lies 30 miles northeast of downtown Denver. The lake provides trails for hiking, biking, birding and horseback riding as well as boating and fishing. Although camping is not permitted in the park, you can pitch a tent at Barr Lake RV Park, where 10 tent sites sit in their own area away from RV traffic. The park is adjacent to I-76, and the lake is immediately on the other side of the interstate. The park is open year-round, and you can enjoy a hot shower and flush restrooms in winter as well as summer.
Near Fort Morgan
Fort Morgan lies 80 miles from Denver along the interstate. Its three reservoirs provide fishing opportunities, and tent camping is available at Jackson Lake State Park where more than 200 campsites include eight tent-only sites nestled away by themselves. Half of them are close to the lake's shore. You can do a load of laundry or enjoy a hot shower at the park's comfort station, hike trails around the lake or launch from the marina for your favorite water activities, including jet-skiing, water-skiing and paddling.
Near Sterling
Nestled in the middle of the prairie less than 20 miles off the interstate, North Sterling State Park provides important riparian habitat for eagles, hawks and other wildlife. Elks Campground, within the park, has year-round camping, and Inlet Grove Campground is open from May through September. Both campgrounds have flush toilets, coin-operated laundromats and showers. Chimney View Campground has similar amenities but sits atop an exposed ridge where high winds and pelting rain can make camping in a tent a miserable experience. All three campgrounds let you choose between pitching your tent on the provided high-use tent pads or on the grass nearby. Just a half mile off the interstate in Sterling, Buffalo Hills RV Park has sites where you can tent camp and enjoy electric hookups at your site, WI-Fi, laundry, restrooms, swimming pool, playground and a horseshoe pit.
Near Julesburg
For a primitive camping experience, you can pitch your tent at Sedgwick Bar Wildlife Area -- with no amenities provided and campfires prohibited. Bring your own water and pack out your own waste. You're likely to see deer, wild geese, turkeys, pheasants, quail and dove; hunting is permitted in season. More primitive camping can be found along the shores of the Jumbo Reservoir in Julesburg. Four primitive campsites lie along the lake's shore, with vault restrooms provided. Camping is available on a first-come, first-served basis. Both facilities lie less than 5 miles off Interstate 76 in the Julesburg area.