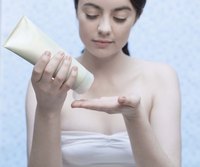 Moisturizers are essential to keeping your hands soft and smooth. These everyday products come in the form of creams or lotions. While creams offer extra moisture, they are not appropriate for everyone. Learn the difference between hand creams and lotions, and how they affect specific skin conditions.
Levels of Moisture
Creams and lotions both are used to achieve a common goal: to help the skin retain water or moisture. Creams contain 50 percent water, as well as 50 percent oil, according to ABC News. This helps to retain the highest level of moisture in the hands possible, and they are heavier in consistency compared to lotions. Hand lotions can be either oil- or water-based. Water-based versions of hand lotions feel lighter and absorb faster. Hand lotions are the most versatile, as they can be used for all skin types and during any time of the year.
Skin Types
Your choice of hand cream or lotion depends greatly on your skin type. Because creams are oilier, they are most appropriate for dry, cracked skin. They may also be used on normal to combination skin during the winter months, when humidity levels are lower. Water-based hand lotions are best for oily and combination skin. For these skin types, lotions can help supply enough moisture without leaving your hands feeling greasy. It is important to moisturize oily skin because lotions help protect against dry skin. Anti-aging hand creams and lotions can also improve skin texture and tone.
Applications
Both hand creams and lotions work best when they are applied to damp skin. Apply them after bathing or after washing your hands. For extremely dry skin, Medline Plus recommends applying creams two to three times per day. Given the heavy nature of creams, consider wearing gloves until the product is completely absorbed. Reapply lotions throughout the day as needed.
Adverse Reactions
Cosmetics, including hand creams and lotions, can cause adverse reactions in some users. The amount of chemicals and fragrances, as well as your level of sensitivity, contribute to the risk of side effects. These may include scaly rashes, itchiness and burning. In general, if you have sensitive skin or allergies, avoid products that contain fragrances and look for natural ingredients. Stop using a hand cream or lotion if it causes adverse symptoms.