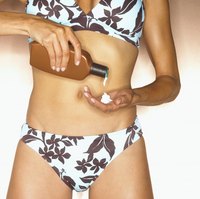 The ingredients in sunscreen lotion help protect skin from harmful UV rays which can lead to premature aging and worse, skin cancer. Though more and more people are becoming diligent about slathering up before heading outside, there is still some confusion about the various levels of SPF and which one, if any, is the best -- especially when it comes to protecting the skin against both UVA and UVB rays.
Broad Spectrum
When shopping for sunscreen, select brands labeled "broad spectrum," which block both UVA and UVB rays. The SPF level only takes UVB rays into consideration. UVB rays are the primary cause of sunburns and skin cancer, while UVA rays are the culprits of premature aging and wrinkles. Look for a broad spectrum sunscreen to maximize protection from premature aging, burns and skin cancer.
The Numbers
A higher SPF does equate to better sun protection, but not to the extent many people might think, as the gains in protection increase in much smaller increments than the labels might suggest. For example, SPF 15 blocks about 93 percent of UVB rays while SPF 50 blocks about 98 percent, according to the Skin Cancer Foundation. In general, a broad spectrum sunscreen with an SPF of 15 or 30 will provide ample protection from sunburns and skin damage when properly applied. However, though the difference between the 93 percent and 98 percent may seem relatively small, those with fair or sensitive skin can benefit from that little bit of extra protection and should consider using a higher SPF.
How Much
It's important you apply enough sunscreen so you are getting the full amount of protection your sunscreen offers. The Skin Cancer Foundation recommends 1 ounce per application -- about as much as would fit into a single shot glass. When you reapply the sunscreen, apply another ounce. Sunscreen takes some time to blend into the skin fully, so apply yours 30 minutes before heading outside.
How Often
If you're going to be outside all day, you need to reapply your sunscreen every two hours. Also reapply your sunscreen immediately after swimming or activities that may have caused your body to sweat it off -- regardless of whether it is a water-resistant or waterproof formula.