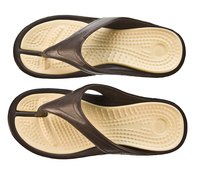 Skinny jeans, horn-rimmed glasses: hipsters have their own signature style. With summer right around the corner, some may wonder what footwear fits into a hipster aesthetic. Hipsters can wear flip-flops in a variety of materials and tones. As The Urban Gentleman website says on the subject of men wearing sandals: "The hipster urban gents can get away with just about anything."
Khaki or Canvas Flip-Flops
Khaki or canvas flip-flops are very popular for hipsters. Because of their natural material and neutral tones, these flip-flops can be paired with a variety of outfits and are extremely comfortable.
Havaianas
When hitting the beach or pool, Havaianas are one of the most popular and versatile types of flip-flops. These rubber shoes come in an array of colors and prints and can be worn to match board shorts or swim trunks.
Birkenstocks
Birkenstock sandals have been around for more than 200 years and for good reason. The leather and cork look is timeless and gives the standard flip-flop or sandal a more refined look. As the brand says, "No smoke. No mirrors. No gizmos. You walk, the shoe molds to your foot. You feel good. We feel good. That's the deal."

Luxury Flip-Flops
For hipsters with discerning tastes and big budgets, luxury brands like Diesel or Paul Smith offer leather flip-flops that can be paired with chinos and linens. Brands like DSquared2 and Y-3 also offer more expensive rubber sandals that can be worn in lieu of the more affordable Havaianas.