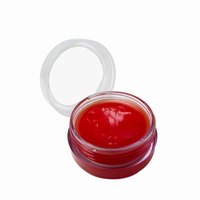 The number of lip products on the market can be overwhelming. This is particularly the case if you're in search of moisturizing lip products that won't cause skin reactions. Unfortunately, the U.S. Department of Health and Human Services Office on Women's Health says no cosmetics are 100 percent reaction-free. Choosing hypoallergenic lip moisturizers may reduce your chances of an allergic reaction, but there are other factors to consider as well.
Purpose of Lip Balm
Lip balm contains moisturizing ingredients to help keep your pout soft and flake-free. Thicker moisturizers with petroleum bases are best used in extremely dry weather or right before bedtime. The American Academy of Dermatology recommends using lip moisturizers that have an SPF of at least 30 to help reduce your risk for burns that can subsequently lead to skin cancer and premature aging over time.
Hypoallergenic Defined
Hypoallergenic is a term loosely used in the cosmetic industry. As a consumer, you might take this term to mean a lip balm is free of allergenic ingredients. However, companies have the right to label such products as hypoallergenic if the manufacturer uses ingredients that are not as allergenic as others. For example, aloe and shea butter aren't widely allergenic extracts, and may be used in lip moisturizers labeled as hypoallergenic.
Allergenic Ingredients
Skin sensitivities vary by individual -- this is the main reason why allergic reactions can differ between lip balm users. Some lip moisturizers contain light fragrances which can cause rashes. On the flip side, you may not be allergic to fragrances, but you might have reactions to other ingredients such as plant extracts and sunscreen. Keep in mind that "natural" and "organic" products can produce the same adverse reactions in chemical-based lip moisturizers.
Types
Hypoallergenic lip moisturizers come in various forms. Some of the most popular types are balms that come in tube form because they are easy to apply and travel with. Oil-based lip moisturizers often come in small pots because of their heaviness. No matter which form of lip balm you choose, the risk for possible reactions remains the same.
Prevention/Solution
Keeping your lips moisturized and allergy-free requires research and caution on your part. If you're sensitive to certain ingredients, avoid lip moisturizers that contain them. Read all product labels carefully and call the manufacturer if you have any questions. The Office on Women's Health also recommends testing new products two days before use to see if you have any adverse reactions. Consider applying a small amount of the lip moisturizer onto the inside of your arm. If you have a reaction even after patch testing the product, call a dermatologist.