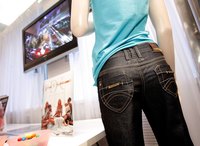 Every woman has body features that she likes to showcase and others she'd rather hide. If you have the classic "apple" shape -- characterized by a bigger belly and flat behind -- you may be frustrated when it's time to pick a new pair of jeans. With a few denim styling tricks, you can play up your good features while camouflaging the rest.
Rise and Fabric
Look for a midrise jean that fits across the belly to hold in love handles. Low-rise jeans are generally not your friend, as they can produce the unwelcome muffin top. Hold in your waist while lifting your bottom by choosing a pair of jeans with some Lycra or spandex. In contrast to stiff denim that further flattens your rear, the stretch fabric will give your derriere a boost.
Cuts
Oprah Winfrey's go-to denim expert, TLC's Stacy London, suggests boot-cut and flat-front trouser leg jeans as your best bets for balancing a thicker midsection. Skinny jeans and even pencil crops will flatter the typically thin legs of an apple body, but to pull off this style, pair these cuts with a longer blouse or hip-length sweater to conceal any tummy bulges.
Details and Extras
Some jeans have hidden stomach panels to hold in a protruding tummy, but if you can't locate such a pair, try wearing shapewear under your denim. If you're looking to add a little bulk to your flat bottom, select jeans that have wide-set back pockets and intricate stitching details to define roundness. Pocket flaps and embellished designs also add fullness to your backside, so keep your eyes open for designer extras.
Washes and Colors
Dark denim is always slimming. But although you want to thin down your middle, you also need to boost your bottom and bring proportion to your slender lower body. To achieve this balance, opt for a medium or dark wash with some fading or whiskering in the thigh area. This adds just the right amount of visual volume without making you look heavy. Colorful back pockets will also help add the roundness and fullness your flat booty demands.