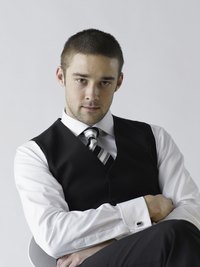 Consider the suit vest a classic piece that will add elegance to an ensemble. Jeans become refined when worn with a button-down and vest; waists appear trimmer when a dark-colored vest is buttoned over a shirt; and the three-piece suit -- jacket, pant and vest -- is a timeless evening ensemble. Yet, before heading out to buy the vest, first consider what color to buy.
Black
Maximize the usage of your vest by investing in black. You can wear it to formal occasions, the office and casual evening events. Black is classic, and will always look elegant and appropriate. Whether your suit is gray, brown or black, a black vest worn underneath will match. For evening events, the stark contrast of pairing your black vest with a white shirt looks sleek and instantly draws your waist in visually. When wearing black, you can even embrace textures. Corduroy, satin facing and nubby tweeds look appropriate in black, but might appear gaudy in other colors.

Gray
Wear a gray vest almost as often as you would black. It's a color that pairs well with suits, and looks crisp and tailored over a long-sleeve shirt. If wearing it over a button-down without a jacket, leave the last button unbuttoned, just as you would a suit jacket. Pair it with dark-wash jeans or a pair of chinos to dress down the vest. Ensure your jeans fit well, and reserve trendy ripped or faded versions for other tops.

Brown
Embrace a smart collegiate look in a brown tweed or herringbone vest. Pair the nubby vest over a button-down shirt, dark-wash jeans and a brown boot; this is a laid-back look. Create a refined ensemble by pairing a basic brown cotton or wool vest with a matching suit or dark-wash jeans and a button-down. However casual the vest, ensure it's a good fit. The shoulders should lie flat against your body and the hem should slightly cover the top of your pants.
Patterns
Express your individuality in a patterned vest. Opt for black and white, or neutrals to look polished and refined. Wear a black-and-white vest paired with matching slacks and a white button-down shirt for a dapper office look. Navy pinstripe is another pattern you can find a matching vest and pant in.