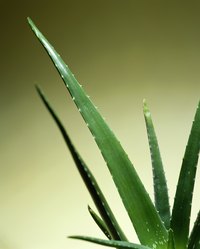 Aloe is an extract of the aloe vera plant, which has been used for health reasons since ancient Egypt. Aloe vera has been used topically for over 6,000 years. While the plant has roots set deep in history, modern cosmetics with aloe are commonplace in beauty stores. Known as a healing plant, manufacturers use aloe extracts to help restore the skin. This is why aloe is so prominent in cosmetics.
Gels and Ointments
Within the leaves of the aloe plant is a gel-like substance. This same gel is used to make soothing aloe vera gels for sunburn treatment. Such products are widely available over the counter and can be applied immediately after excessive sun exposure to help soothe the skin. Aloe vera may also help prevent skin from peeling after burns. While aloe can be used for other types of burns, it is not recommended for severe burns or for skin treatment post-surgery.
Lotions
The soothing benefits of aloe vera may be experienced in lotion form. Body lotions that contain aloe extract are often light with a subtle fragrance. These lightweight lotions can be used for everyday purposes, although some versions are intended for aging skin. Lotions containing aloe also help with skin inflammation, which is why some patients with psoriasis use these types of lotions.
Dry Skin Creams
Aloe offers moisturizing effects for the skin. Cosmetic companies use this to their advantage by adding aloe into heavy creams for dry skin. These types of products are intended to help sooth dry skin while preventing flaking. Many hand creams contain aloe and are designed for everyday use. While aloe is a gel in nature, many skin creams are oil-based.
Safety Concerns
Aloe vera is considered safe when used topically, but cosmetics containing aloe are not tested for safety by the Food and Drug Administration (FDA). While the FDA says aloe is safe, the agency doesn't oversee the production of cosmetics. Since most cosmetics contain many ingredients, reactions from your skin care products may be related to another chemical or extract aside from aloe. Some of the most common side effects of aloe cosmetics include irritation and rash. Never take topical aloe orally, as this can result in accidental poisoning.