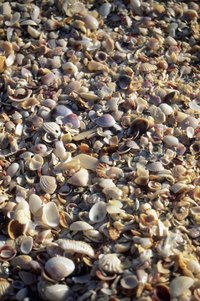 The islands of Sanibel and Captiva, off the western Gulf Coast of Florida, are 23 and 32 miles, respectively, from Fort Myers via the Sanibel Causeway. The two islands have 15 miles of white sand beaches between them, as well as opportunities for biking, fishing, golf, birding and shelling. The islands also feature some interesting museums.
Beaches
Sanibel's Bowman's Beach is a secluded stretch of white sand with no hotels in sight. Amenities include restrooms, an outdoor shower, picnic tables and barbecue grills. Lighthouse Beach, on Sanibel's eastern tip, is home to a historic functioning lighthouse. The beach also has restrooms, an outdoor shower and a boardwalk nature trail that winds through wetlands. Swift currents at Captiva's Turner Beach make it unsafe for swimming, but the beach is an ideal spot for shelling and fishing. Captiva Beach, at the end of Captiva Drive, has limited facilities, but it's a great place to watch sunsets.
Nature
The J.R. "Ding" Darling National Wildlife Refuge covers 6,400 acres of mangrove forest on the north side of Sanibel Island. The refuge provides habitat for more than 220 species of birds, many of which are endangered or threatened. Cars and bikes are both welcome on Wildlife Drive, the main road through the refuge. Three bike and foot trails lead from Wildlife Drive into the preserve, where visitors often spot alligators, night herons and other bird species. The refuge has a visitor and education center with a hands-on area for children and interactive exhibits on refuge ecosystems and migratory flyways.
Active Pursuits
Sanibel has 22 miles of paved bike trails that wind through shopping districts, neighborhoods and nature areas. Rabbit Road is a 1-mile trail that allows bikers to see gray marsh rabbits, alligators and wading herons. The 1.5-mile Dixie Beach Road is an easy, level trail that leads from Heart of the Islands shopping center to San Carlos Bay. Captiva's Pine Island Sound Aquatic Preserve is a shallow estuary ideal for kayaking. Novices and experienced paddlers will enjoy exploring the area's bays, beaches and bayous, which are home to manatees, dolphins and otters.
Museums
The Bailey-Matthews Shell Museum on Sanibel has more than 25 exhibits that explore the use of shells in history, medicine, art, among other disciplines. A shell-identifier wheel categorizes local specimens by size, and a special lab allows kids to handle shells and learn about them through games. The Sanibel Historical Museum & Village displays several preserved buildings from the island's past, including a general store, tea room, one-room schoolhouse, post office and fishing cottage. The 1913 Rutland House, built in the Florida "cracker" style, has 11-foot ceilings and doors opposite each other that allow air to circulate in the warm climate.