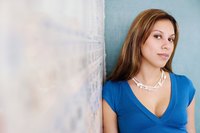 When it comes to putting an outfit together, accessories can really make or break your look. Jewelry is an especially important accessory because it can add eye-catching color, texture and shine to an ensemble. A necklace is usually one of the easiest pieces of jewelry to wear, but that doesn't mean there aren't certain rules that you should observe when selecting one to pair with an outfit. The right necklace can help make your outfit pop and create a more flattering silhouette for your body.
Consider Neckline
When choosing a necklace, consider the neckline of your top or dress to help select the best style. With a V-neck top, a short necklace like a choker or princess style works well. You can also opt for a longer necklace, though – try a bib or Y-style necklace. Even a long, draped necklace like an opera or lariat style can complement a V-neck. If you're wearing a scoop-neck top, shorter necklaces are usually best. However, you can wear a longer necklace if you layer it with a shorter one. When you're wearing a crew or boat neck top, a long, layered necklace is usually your best option since the neckline is higher. With a turtleneck or mock turtleneck, choose a necklace that is large enough to lay over the shirt – you can go with a bib style necklace or opt for a longer style like a lariat necklace.
Work With Body Type
While your neckline should influence the type of necklace that you wear, also take your body type into account so you can choose a style that flatters your shape. If you have a long neck, a shorter necklace like a multi-strand choker is flattering because it helps balance your proportions. On the other hand, if you have a short neck, opt for a longer necklace that elongates your look for an overall slimmer appearance. Petite women should avoid necklaces that are extremely long like a lariat style because they emphasize the lack of height. If you have a large bust that you want to downplay, choose necklaces that are shorter so they end above your cleavage.
Play With Color
A necklace is an ideal way to add color to your outfit. Since it's a small accessory, it can serve as an ideal accent -- so you shouldn't be afraid to create a bold contrast between it and your clothing to really make your outfit pop. Pairing contrasting colors, or shades that are opposite one another on the color wheel, is a surefire way to turn heads. For example, if you're wearing a coral top or dress, pair it with a necklace that features turquoise stones or beads, since orange and blue are opposite on the color wheel. When you're wearing a neutral outfit with pieces such as black, white, gray or tan, opt for a necklace with brightly colored stones or beads in red or yellow to really spice up your look.
Keep It Balanced
When you're wearing a necklace, choose your other jewelry with care so your outfit doesn't look too busy. Typically, wearing just two items of jewelry is the best way to avoid overloading your look. If you're wearing a necklace, choose earrings, a bracelet or cocktail ring to wear with it. If you're pairing your necklace with earrings, though, keep scale in mind. With a large statement necklace, opt for small, simple earrings like studs. On the other hand, if you're wearing large, dramatic earrings like chandelier style, choose a small, delicate necklace to keep your look balanced.