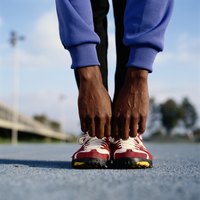 Shoe soles need a certain degree of slip resistance in nearly every environment. Indoors and out, potential slip hazards like tile floors, public restrooms and snowy sidewalks all create a need for increased safety. Some shoe sole types provide better slip resistance than others, making them smarter choices in these potentially hazardous environments.
Natural Choices
Rubber and cork are naturally occurring materials, widely used for providing better traction for shoe soles. These materials have a high degree of sponginess and excellent rebound capability, making them conform well to surfaces. Since both materials are naturally water-repellent, neither rubber nor cork will absorb moisture and get slipperier by simply wearing them in the rain or on a slick surface.
Artificial Alternatives
Silicone is a synthetic material, widely used in shoe soles. The compound is primarily designed for increased traction, achieved through a semi-tacky and softer feel. Silicone is very often found providing traction for today's best athletes, as well as the guy wanting to maintain his footing while lifting weights at the local gym.
Application Specific
Many shoes are designed with certain professions in mind, such as nurses and construction workers. The soles of these shoes are made with slip-resistant materials or feature thick lugs to increase grip on slippery, uneven surfaces. In the latter case, the chunky soles of these shoes and boots are made from rubber or a compound of natural and synthetic slip-resistant materials. The combination makes for high levels of traction and sure footing.
Increasing Traction
Leather-soled shoes are not the first choice when you want something with high levels of slip resistance. However, leather may be made to be more resistant to slips and falls by scuffing the soles on rough concrete or 80-grit sandpaper prior to heading out. The increased surface area and grooves created by this process cause the soles to maintain traction, even in wet or otherwise slick situations. Silicone and rubber soles can have their slip resistance enhanced through regular cleaning or use of a traction mat, similar to what basketball players use to remove excess dust and dirt from their soles.