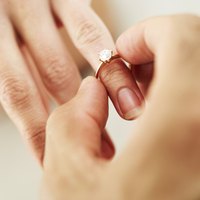 When you're newly engaged, your ring looks more beautiful than most anything. You want to show off the sparkling symbol of your love, so you want your hands to look just as lovely as the ring. If your natural nails are less than attractive -- thin, peeling, splitting or bitten -- you might want to go the fake-nail route to give your engagement ring the most attractive setting possible.
Salon Acrylics
For the most professional look and the widest range of choices, go to a reputable nail salon for your acrylic nails. Most salons have a selection of wedding-style nail choices. These include flowers, lacy designs and variations on the French manicure, mainly in whites, soft pinks and ivories. The nail tech can advise you on what will look best with your style of engagement ring. For the smoothest and healthiest experience, the Mayo Clinic advises you to "stick to salons that display a current state license, and work only with technicians also licensed by the state board."
Cost, Upkeep and Future Plans
As of 2013, acrylic nails applied at the salon generally cost from $25 to $45 for a new set, and $15 to $30 for fill-ins every few weeks. Getting the new set of nails is a commitment, because over time the acrylic overlays will damage your natural nails. If you're going to get acrylics at the salon when you get engaged, it may be a good idea to keep getting them redone until the big day. Your salon may even have wedding packages so you can plan to have the whole bridal party's nails done -- including a manicure for the groom.
Do-It-Yourself
If you're on a tight budget or don't want to make the commitment to periodic acrylic fill-ins, at-home acrylic nail tip kits or press-on nails may be your best choices. However, the kits involve mixing and applying powders, so unless you're very coordinated, you may need a friend to help. And generally, the kits cost almost as much as a salon fill-in. Press-on nails will make your hands look good to show off your ring, and you can remove or change them far more easily than you can salon acrylics. However, they lack the staying power that a professional set offers.
Other Choices
You can choose other methods for covering up your nails to show off your engagement ring in its best light, and you can still choose the colors and designs you like. A regular, inexpensive manicure will clean up and beautify nails that are in okay shape. Gel overlays do away with the need for nail tips, and are also easier to remove than acrylics. Gel overlays can be applied in a variety of colors, and generally last a bit longer before you need a fill-in. This means you just might have fewer salon visits between saying "Yes" and walking down the aisle.