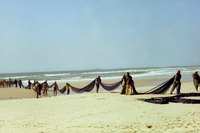 The West African nation of Senegal's natural, cultural and historic treasures represent a tourist's playground of exceptional diversity. The country's natural attractions range from breezy beaches to wildlife-rich mangrove forests to wide open savannas teeming with big game. Add the options of exploring lively modern cities, remote villages where tribal people live as they have for centuries and the crumbling remnants of European colonial endeavors, and Senegal proves itself as enticing as anywhere else in Africa.
Urban Attractions
Lonely Planet calls Dakar, Senegal's capital city, "urban Africa at its best" for its vibrant nightlife, art galleries and museums and numerous street markets, each with their own specialty. The Soumbedioune market showcases handicrafts, while vendors at Tilen market include traditional healers and sellers of medicinal herbs. Dakar also has a large cruise port with duty-free shops. The President's Palace, Parliament House, National Gallery of Arts and National Art Tapestries Manufactory are among the cultural attractions of Dakar. Another urban hub with considerable historic appeal is UNESCO's World Heritage-listed Saint-Louis, Senegal's former capital. Enticing sightseeing options include taking a horse-drawn carriage ride to view the city's well-preserved French colonial buildings, or a boat trip down the Senegal River to see the mud architecture of historic neighboring towns like Podor, Bakel and Matam. Saint-Louis also hosts a renowned annual jazz festival.
Cultural and Historic Attractions
Another of Senegal's UNESCO World Heritage Sites is Goree Island, a 20-minute boat ride from Dakar. The island, a holding place for slaves from the early 16th to the mid-19th century, retains its historic structures including forts, warehouses, an auction block and cells. Tours and on-site museums educate visitors about what was once the largest slave trading post on West Africa's coast. Guided tours with a specific focus on Senegal's tribal groups are a good option for tourists with an interest in the culture and heritage of the diverse nation. Africa on Safari's eight-day "Bassari, a Cultural Journey" tour, for example, includes exploring the semi-nomadic Fulani villages of Ibol; meeting chiefs of Bedik villages and learning about their rituals and ceremonies; a hike along the River Gambia stopping at Sarakholes and Bambara villages; and, time to meet villagers of the ethnically diverse Tambacounda area.
Coastal Attractions
The coastal town of Saly Portudal is one of Senegal's main tourist hubs, offering beach resorts, a golf course and manicured beach-front gardens. Visitors can easily arrange activities and excursions including snorkeling, scuba diving, windsurfing, horseback riding and deep sea fishing. The town of Cap Skirring has a beach scene and a similar range of tourist facilities; Casamance is also known for its unspoiled beaches, mangrove forests and enormous kapok trees. The Pink Lake, also called Retba, is another tourist attraction near the coast. The shockingly pink colored lake is shallow and very saline, and on weekdays you'll see local workers harvesting salt from its bed. A traditional village and baobab forest add to the appeal of the natural setting.
Natural Attractions
Senegal claims one of the world's most important bird sanctuaries, UNESCO World Heritage-listed Djoudj National Park, which covers the delta of the Senegal River near the border with Mauritania. The park's wetlands, large lake and numerous streams and ponds host a year-round population of some 1.5 million birds, and as many as three million migratory birds in winter. Its flamingo and white pelican populations are among the largest in the world. Nikolo Koba, the largest national park in Senegal at two million acres, is home to Derby elands, the largest of all antelope species, an abundant elephant population and lions, crocodiles, hippos and some 300 bird species. Its lions are reputedly the largest in Africa. The Saloum Delta archipelago near the Gambia border is another UNESCO World Heritage Site, a designation given in part for the region's man-made shell mounds, a byproduct of shellfish processing transformed over centuries into islets. A handful of eco hotels operate in the delta and arrange tours in motorboats and canoes. Sometimes called "The Amazon of Africa," the waterways of the Saloum Delta are home to pink flamingos, pods of dolphins and manatees; on land there are thousand-year-old baobab trees and savanna habitats for colobus monkeys, baboons and hyenas.