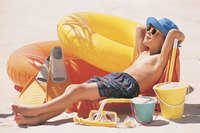 Midland lies at the heart of Michigan's Lower Peninsula, a place where outdoor fun is a finely tuned tradition. Midland area beaches hug a Lake Huron bay and man-made lakes alike. Swimming, sand volleyball and beach fitness classes offer fun for all ages. Beaches welcome the sun worshipper to a diversity of easy to access city and county parks with the promise of relaxation and summertime play.
Kiwassee Lake
The family-friendly Kiwassee Lake is a shallow, sandy-bottomed body of water that's just right for young swimmers. Its large beach invites sunbathing and sand castles. Located at Stratford Woods Park along the city of Midland's east side, there's no admission for enjoying play and relaxation at this man-made lake. Parents should be aware that there is no lifeguard on duty. It's easy to plan a full day of fun by taking advantage of park amenities which include three basketball courts, grills, picnic tables, a BMX track and nature trails.
Sanford Lake
With 1,000 feet of sandy beach, Sanford Lake's shoreline and water provide endless hours of summer fun. The 1,250 acre man-made lake is the centerpiece of the county-operated Sanford Lake Park. Located in north central Midland County, the narrow lake is 10 miles long with a maximum depth of just 26 feet. Turtle Tides Spray Playground provides youngsters alternate splashing play with its 18 water features. Other park amenities include an 18-hole disc golf course, a boat launch and boat slips for pleasure boaters and anglers who cast for bass, bluegill and perch.
Saginaw Bay
The more than 1,000 feet of sandy beach along Saginaw Bay at Bay City Recreation Area has attracted the beach-loving crowd to mid-Michigan for generations. The 2,000-acre park hugs the bay of Lake Huron just over 23 miles east of Midland. The park's Fresh Air Fit agenda takes fitness training to the shore with programs like Muscle Beach Bootcamp. Park activities include camping, biking, fishing, hunting and birding. Bay City Recreation Area also contains one of the largest remaining freshwater coastal wetlands on the Great Lakes and is a premier staging area for migratory birds favored for bird-watching.
Haithco Lake
Haithco Recreation Area in Saginaw provides a tree-lined sandy swimming beach along a 40-acre man-made lake. The well-manicured park operated by Saginaw County is located 24 miles southeast of Midland. Lifeguards are on duty during summer months to ensure swimmer safety. Boat rentals provide lake recreation with the on-site availability of paddleboats, rowboats, canoes and kayaks. Sand volleyball courts, horseshoe pits, playgrounds, fishing access and grills promote day-long outings. A concession stand provides favorite snacks and treats.