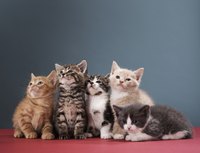 Perhaps you bred Frisky with a special someone to produce a litter of mini versions of her. Or maybe she had a suitor hanging around who got some loving in before she was spayed. Whatever the circumstances, don't be alarmed if her offspring doesn't mirror her or the intended father.
Dominants and Dilutes
Though you may see white cats, orange cats, black cats, gray cats and combinations of all of them, cats come in two basic colors: black and red. These are referred to as dominant colors, and every cat's coloring relates to them in some way. The dominant colors have corresponding dilutes; the black dilute is referred to as blue, which looks grey, and the red dilute is known as cream, which is a buff color.
Putting Them Together
When two cats of dominant colors mate, they can produce both dominant and dilute kittens. If Frisky is red and her lover is black, there's a variety of possible outcomes. For example, in a litter of four, there may be one red, one tortoiseshell, one cream and one blue-cream. Two black parents can produce kittens that are blue. Dilute colored cats, however, can only produce dilute color kittens. So if Frisky's blue and her boyfriend is blue, you'll be seeing more more blue.
White Cats
If Frisky has a white kitten, you're probably scratching your head wondering how that happened. White is not a color. If there's a white kitten in the litter, it's because she carries a gene masking her true color. Some white cats have a spot of color on their heads, indicating the true color. If there's a tuxedo cat in the mix, it's because the masking gene restricted her color to certain parts of her body. If one of Frisky's babies has some white on her, she's bi-colored.
Mutations
If you've seen a brown cat, it's really a black cat; mutations of the black gene can result in the brown colors, chocolate and cinnamon. Chocolate is a medium to dark brown color, while cinnamon is a terra-cotta color. Chocolate and cinnamon have their own dilutes: lilac, which is a light taupe or grey, and fawn, a caramel color.
Catting Around
If Frisky's really thrown you for a loop and one or a couple of her offspring is still hard to place, she may have had more than one suitor. It's possible for cats to carry litters of kittens fathered by more than one cat. If that's the case, don't feel bad; it's not unusual behavior for cats in heat, and the neighbors won't care.