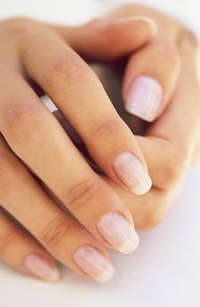 Itchy skin on the tops and palms of your hands and fingers can be uncomfortable, and even painful. There are a few reasons why you might be experiencing this type of itch, but the most common is dry skin. Implementing a few lifestyle changes and knowing which ingredients to look for when shopping for creams will help you fight the itchy feeling.
Itchy-Hand Causes
Unless you are experiencing a rash along with your itchy hands, the cause is likely dry skin, or xerosis. Dry skin is usually the result of being exposed to dry air in extremely hot or cold weather, being in air-conditioning or central heating for extended periods of time, or from washing and bathing too much. Other causes of dry skin include eczema (dermatitis) or psoriasis, which often come with redness, bumps and blisters. Food allergies or nerve disorders such as multiple sclerosis can also cause dry skin.
Itch-Relieving Cream Ingredients
To treat itchy hands caused by dry skin, use a rich moisturizer on the skin once or twice a day. Look for a cream containing urea, a chemical found naturally in the body that enables the cells to absorb and retain moisture. The mild topical anesthetic benzocaine and the emollient paraffin are other ingredients to look for in creams. The Mayo Clinic also recommends using a cream containing 1 percent hydrocortisone to relieve itching. After bathing and before bed, you can even use petroleum jelly or solid vegetable shortening to lock in moisture.
Ingredients to Avoid
Stay away from creams or cleansers containing fragrance and dyes, which can further irritate the skin. Also, don't use water-based creams: They're not thick enough to treat severe dryness.
Lifestyle Treatments
A few lifestyle changes may also be effective in preventing your hands from getting dry and itchy. Use a humidifier in your home in the winter and summer months when you have the drying heater and air conditioner on full blast. Also, add a spoonful of soothing itch-relievers such as baking soda or uncooked oatmeal to your bath water. Finally, do not scratch the skin on your hands -- this will only worsen symptoms and could lead to scars and changes in skin color or to a condition called neurodermatitis, where the skin becomes leathery.