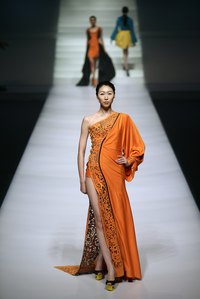 Paris, Milan, England and New York aren't the only major players on the fashion scene. When it comes to fashion, designers draw inspiration from everywhere. One very powerful source of inspiration for several brands and designers is India. India, which is rich with diversity and culture, is a treasure trove of fabulous fashion and beauty finds, making it's impact on style one that is not to be missed.
Buying Power
When it comes to luxury fashion, India has shown itself as a country with a lot of buying power. High-end brands including Stella McCartney, Prada, Alexander McQueen and Dolce&Gabbana are all in talks to open stores in India. Christian Louboutin already owns a brick-and-mortar location, as does Louis Vuitton, while Gucci already owns five stores in Indian cities. Style.com reported, "The luxury industry in India is growing at 25 percent," according to Sanjay Kapoor, managing director of Genesis Luxury, which has Indian franchising rights for brands including Jimmy Choo, Etro, Burberry and more.
On the Runways
International designers are tapping into the Eastern fashion trend. French designer Jean Paul Gaultier's spring/summer 2013 collection was entirely influenced by India. Guests -- who were seated in sections named after Indian cuisines -- watched pieces in vibrant colors, such as saffron and chartreuse, flow down the runway. Dhoti pants -- flowy pants that resemble harem styles -- and ankle bracelets were paired with jeweled jackets.
Model Imports
Models can be just as important to designers when creating collections as any other inspiration; and the international fashion scene has noticed a huge influx of Indian models working their way up the industry ranks. Take Lakshmi Menon, for example, who has starred in campaigns for major brands such as Givenchy and Hermes; or Moni Kangana Dutta, who's walked the runway of Vivienne Westwood and Kris Van Assche. Dutta told Style.com, "Indian women stand out, from the color of their skin to their features. Without us, fashion isn't complete." This statement certainly seems to have some truth, as Indian models increasingly dominate the fashion scene.
Beauty
Indian influence isn't limited to fashion. Style is about beauty, too, and Indian influences can be seen in full force in the international cosmetics industry. This includes not only makeup brands, but also hair and skin care companies. Beauty brand Aveda now markets a line for thinning hair called Invati, which uses Ayurveda -- India's alternative medicine that uses herbs along with other natural ingredients. Paris-based Clarins produced a line of cosmetics inspired by the Hindu festival of colors, Holi, while jeweler Boucheron markets an Indian-inspired fragrance called Jaipur Bracelet. Other cosmetics brands to create Indian-referenced products include super-houses Chanel and Nars.