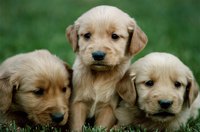 Spending time outdoors is important for puppies. They need to go outside for housebreaking purposes, for one thing; they also need to play outside to expend some of their natural energy and to learn socialization skills, preferably with other dogs. Early introduction to the outdoors ensures pups don't become scared of the great wide open. Being outside can be dangerous to puppies, sometimes, so you can't just wean them and let them outside for life.
The Earlier Weeks
Puppies are wobbly walkers until they are about 4 weeks old. Even after that, their sense of balance is not exactly perfect and they might still end up tripping and falling regularly. If you plan on letting them go outside, make sure somebody is there to watch them. It's easy for a tiny pup to fall into a hole, get stuck somewhere or simply eat or do something inappropriate that might be highly dangerous.
Risk of Illness
You don't want your puppies spending significant time outside until they've started their puppy vaccines. The regimen includes three rounds of DHLPP vaccines, which protect the puppy from five potentially deadly diseases: distemper, hepatitis, leptospirosis, parainfluenza and parvovirus. The first round comes about age 6 weeks, boosters follow around 11 and 15 weeks old. While puppies could play outside and around other dogs before they're 15 weeks old, it should be only around dogs that you know are healthy and vaccinated. That means going to the dog park is not a good idea until the vaccination rounds have been finished.
Weather Conditions
If you live in an area with cold weather, keep in mind that very young puppies have a hard time maintaining body temperature. According to VCA Animal Hospitals, puppies that are around 10 days old should be kept at a constant temperature of 80 degrees Fahrenheit. At 4 weeks old, they should still maintain constant temperature of around 72 degrees Fahrenheit. If a wind chill factor making ambient conditions too cold, and in winter regardless, puppies younger than 4 weeks should not venture outside at all.
What to Do Instead
If for whatever reason your puppy can't head outside to play freely just yet, you have options. For example, you can select a quiet corner in your backyard and put up a playpen or a fence. Let the puppy explore the grass within the confines of the fence. It's a good chance to enjoy the outdoors without getting into trouble. A small area parceled off with a solid fence provides relief from cold wind. Another option is to use an enclosed porch, where a puppy can get some sunshine without being exposed to low temperatures or outdoor dangers.