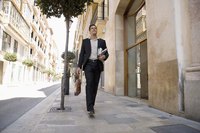 Destination planning and packing generally go hand-in-hand when preparing for an upcoming vacation. Resorts and cruise ships, which offer warm and sunny locales with outdoor activities, pools and lounges, do not always translate to casual attire. Most resorts and cruises require a mix of resort elegant and casual wear for both men and women. Resort elegant dress codes geared toward men have specific suggestions, alerting you of what items are appropriate for different activities during your stay.
Dress Codes
Although most men heading to a resort or cruise look forward to sun and relaxation, thinking of dress codes can create mental images of suits at the office; however, dress codes generally ensure a pleasant experience according to the activity and remove the guesswork of appropriate attire. For instance, many five-star destinations may request male guests to avoid pool or beach wear when entering or relaxing in the lobby or lounge. This avoids any uncomfortable confrontations, which can lead to non-entry to activities such as brunch or indoor concerts.
Daytime Resort Elegant Wear
Most vacationers pack comfortable staple garments such as shorts, T-shirts, flip-flops, sneakers and baseball caps. Although comfortable and appropriate for casual wear, this attire is inappropriate where resort elegant wear is required. Even if the resort or cruise suggests an elegant casual policy, these two categories coincide. For example, the policy may adhere to a "no jean" rule after a specific time of day, most likely evening. If you plan to workout or be involved in water sports, bear in mind daytime attire also suggests changing into appropriate clothing prior to entering any lounges or restaurant. A button down or polo paired with pants and loafers easily transitions you into appropriate status.
Evening Resort Elegant Wear
Upscale resorts with fine dining doesn't necessarily mean a tuxedo, top hat and tails are required. The policy usually makes suggestions, such as summer suits made of linen, seersucker, fine cotton or silk; or a dress shirt, tie, slacks, leather belt and lace-up shoes. Other restaurants and bars may suggest a blazer, sport jacket, or sport or luxury long-sleeved knit top with a collar; a sweater vest; or a button down, as well as trousers and dressy loafers. If the resort or cruise includes evening casinos, theatrical events, ballroom dancing or dinner with a show, pack a bow tie.
Resort Elegant Wear Style Suggestions
Upscale resorts that do not deem button downs or polos, and nice khaki shorts as appropriate, most likely suggest linen or lightweight shirts with slacks. Do not assume all button downs are appropriate, such as checkered or plaid patterns. Hats, though appropriate outdoors, usually require removal at restaurants, including outdoor or poolside brunch settings. If denim jeans are allowed in specific settings, do not confuse this with trendy versions that include tears or rips. Remember to check resort email confirmations, brochures, websites or with travel advisers, which are reliable resources for resort elegant wear protocol.