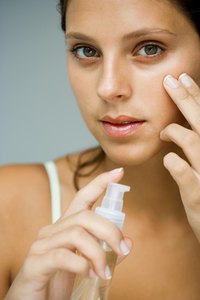 It's important to remember that the skin around your eyes is incredibly delicate and often shows signs of aging before the skin on other parts of your body. The skin around your eyes is incredibly thin, making it prone to irritation, wrinkles, puffiness and dryness. Take care of the skin around your eyes by choosing lotion and eye creams that are meant specifically for the area around your eyes. You will gain the beneficial effects of targeting specific needs if you do.
Anti-Aging
Eye creams and lotions containing Retinol are widely understood as effective methods for encouraging the elasticity of skin and increasing collagen production. Retinoid is a derivative of vitamin A known to encourage cell generation, eliminate or reduce fine wrinkles, and generally smooth skin after a few weeks of use. Several retinoids are currently approved by the FDA (tretinoin, tazarotene, and adapalene) in varying strengths. Adapalene is known to be the most gentle but debatable on its overall effectiveness.
Dark Circles
Dark circles can leave you looking exhausted. To achieve a fresher look, try a new approach. Ingredients like niacinamide found in eye creams is a useful addition to your usual product pick because it eliminates discoloration. Selecting an eye cream with a slight tint can also be useful when you're trying to fade dark marks on your skin. Pick an eye product with a light non-comodogenic concealer that will match your skin tone, which creates a flawless base for makeup.
Puffiness
Some puffiness around the eyes is simply genetic, but for puffiness that noticeably comes and goes, there are several ingredients to look for in your facial lotion or eye cream. Combined with the consumption of less salty foods and plenty of water, products using rosemary or mint, aloe and caffeine all enrich skin and reduce puffy eyes. Caffeine specifically works as an antioxidant and vasoconstrictor, showing a tightening effect.
Moisturizing
If the skin under your eyes is flakey or dry, a hydrating eye cream or lotion is the perfect pick for you. Products with Hyaluronic acid, vitamin A and vitamin E will help to retain the skin's moisture and provide a smoother, silkier finish for a flawless look.