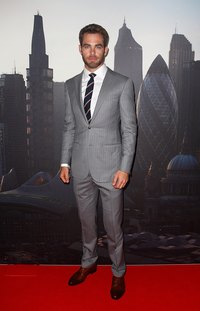 Next time you wear a charcoal gray outfit try a pair of dark brown shoes for a fashionable and visually striking alternative to your go-to black shoes. Charcoal gray, one of the darkest colors of gray, works best with brown that is also on the darker end of the spectrum. Try this stylish trend with a variety of gray outfits paired with other neutrals and brown shoes.
Gray Pants and Brown Shoe Outfit Ideas
Charcoal gray pants are a beautiful staple piece that you can pull out of your wardrobe year-round to create fashionable outfits. A charcoal gray, thin-pinstriped and tailored suit with a heather gray fitted button-down blouse and a pair of dark brown suede Oxford high-heel ankle boots -- or for men a pair of burnished leather wingtips and a navy blue tie with yellow stripes -- creates an impeccable outfit. Either men or women can wear a dark gray slim-fit jean with a white, crew-neck T-shirt under a one-button black blazer for a symphony of neutrals. Men could add a pair of chestnut derbies to this outfit, while women polish off this look with a pair of slip-on loafers either flat or high-heeled.

Gray Coats and Jackets With Brown Shoes
A gray coat is a nice neutral to wear over either a warm or cool tone outfit. For women, a dark-gray wool, double-breasted, knee-length coat and a pair of tall mahogany riding boots is a chic outfit in itself -- regardless of what is worn underneath. Men can accomplish this look with a sailor-style gray wool peacoat and a pair of dark brown, Oxford ankle boots with a pair of cuffed, charcoal gray chinos and a neutral-colored button-down -- white, light-blue or heather gray. The shirt can be either solid or have a thin pinstripe.
Brown Heels With Gray Dresses
A charcoal gray A-line jersey dress is figure-flattering for most women because of the enhanced waistline and fluid lines around the hips. Try a pair of dark brown platform sling-backs and wear jewelry that mixes silver and gold to tie the elements together like a set of mixed metal bangles or drop earrings. A charcoal gray pencil skirt with a white button-down blouse, a thin, mahogany brown belt and matching brown peep-toe pumps with pastel-pink accessories is a professionally polished, yet super-chic style.
Other Brown and Gray Options
Lighter shades of brown work with lighter shades of gray any season of the year. Camel brown and heather gray complement each other perfectly. Pair a camel-colored pair of Oxford lace-up shoes with a medium-gray sweater dress for women or monochromatic gray wash jeans and T-shirt for men. A light tan shoe and a heather gray shirt with light-colored jeans or chinos play with the lightest shades of this color-combination for either men or women.