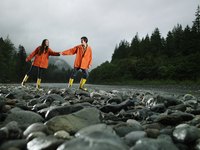 Rainy weather is not the time to wear a stiletto, leather shoe or even a canvas sneaker as a downpour or puddle can ruin the sole. The most appropriate shoe for rainy weather is the rain boot. However, wearing these boots requires a few etiquette rules to avoid coming off as rude, sloppy, or inappropriately dressed.
Go For Class
Avoid the brightly colored and heavily printed styles of your youth. Upgrade your rain boots as you do the rest of your wardrobe when you're an adult. If choosing a bold color, look for a pair without prints. If opting for a print, choose one in soft or neutral colors. Of course, a sleek pointed-toe style in black is the ultimate refined rain-boot for an adult to wear on a rainy day.

Wear Them Only When It's Wet
Wear rain boots when it's raining or there are puddles. Rain boots have become a boot trend by fashionistas sporting them at music festivals as a chic way to protect their legs from mud and puddles. For everyday situations, you can appropriately dabble into this trend for the same reasons. On warmer days, pair a rain boot with jean shorts to keep legs clean. On cooler days, tuck slim jeans into them. However, if the sun is out and shining, rain boots are a fashion don't as they serve no purpose.

Your Co-Workers Shouldn't See Them
Wear your rain-boots going to and from the office. However, your proper work shoes should be on your feet the minute you walk through the door. Find an appropriate place outside the office to change your shoes. Out of politeness, dry your shoes and place them in a bag. No matter how sleek or chic your rain boots or galoshes are, they are not appropriate work gear. Wearing professional attire at work visually creates a polished and respectable image. Sloshing into work in wet rain boots will unconsciously send a sloppy and unorganized image to your coworkers.

Leave Your Shoes at the Door
Be courteous to your host and leave your rain boots at the door. When visiting someone's house during a downpour, take extra caution to avoid dirtying their home. Wipe your feet on the mat at the door before taking a step inside. Place your shoes where you see other shoes. If there doesn't seem to be a designated area for guests to leave their shoes, ask your host where you should place your boots. Also, make a mental note before leaving the house that you'll be taking off your shoes. Wear a good clean pair of socks, and keep another pair in your purse in case yours become wet in the rain.