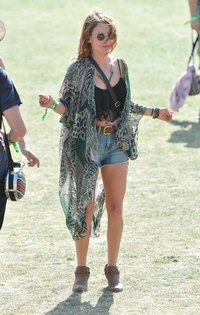 First there were hippies and now there are hipsters. Quintessential hipster fashion is a little bit messy, off-kilter and unkempt -- anti-fashion is the fashion. Belts offer a simple and inexpensive way to create colorful, edgy, funky or unexpected style. The right belt puts you in the loop with the hippest 20-somethings and their urban-cool, unisex style trends.
Skinny Belts
Every hipster, whether male or female, owns a skinny belt. Women can add a patent leather skinny belt to several outfits -- with colorful high-waist jeans, around a sleeveless crop top and disco shorts, or around the waist of an extra long button-down chambray shirt with no pants and suede booties. For men's styles, add a skinny belt to a pair of extra-long skinny jeans and cuff the hem with a pair of flat ankle boots. A skinny belt with ripped-denim jeans and a vest layered over a tank-top with a light linen scarf is another hipster-inspired outfit for men; add a button-down plaid shirt. There is no need for the belt to match your purse or complement your outfit. The belt is a stand-alone statement piece. The beauty of counter-culture fashion is that many fashion rules go out the window.
Colorful Belts
Hipster style is a great excuse to get away from safe neutrals. Rather than your usual dark brown leather belt, try a vibrant neon or jewel tone belt in a textured fabric. Wear a nylon tricot braided belt in fluorescent red with a pair of high-waisted jean cut-offs and a graphic T-shirt with gladiator sandals. Try a sunshine yellow, wide elastic clasp belt over a jersey dress with canvas tennis shoes. A patent-leather, neon pink belt will add a bit of hipster to just about anything you put it on; try it around a yellow striped circle skirt and muscle tank with leather flats for a playful take on this youth-centric trend. Guys can work a colorful belt by adding a canvas geometric belt in primary colors to a pair of dark denim jeans. A white belt is a trademark hipster staple for both men or women. A trending unisex hipster look is to wear a medium-width white canvas belt with a silver rectangular buckle on a pair of lipstick-red, skinny or tightly tapered pants.
Funky Belts
Hipster fashion belts can add an element of edge and funk to any outfit in a very non-gender specific style. Wear a thin, green leather belt with a single row of gunmetal studs on a pair of dark skinny denim jeans and casual canvas tennis shoes with a vintage classic-rock inspired T-shirt and the only thing you're missing is a skateboard. Spikes and metal studs are used in hipster styles in more playful and colorful ways than punk style. Other funky styles for men or women looking to add an indie-rock element are paint splattered belts, wood-grain belts and eyelet belts. Wear them thick or thin, with jeans or skirts. Even if your jeans fit you perfectly and you don't need a belt to hold them up, the belt is more for the style statement than for function.
Repurposed Belts
If there's one thing you have to give the hipster style trends -- they are resourceful. It's right on trend to take a thick, bright shoe lace or stretch of ribbon and use it as a belt. Don't call it a fanny pack -- the hipster holster belt is much cooler than that. This wide leather belt style with built-in compartments is not just a hot fashion piece; it holds your belongings. Try the mod style with sleek pockets or the Wild-West style that has a handmade leather, gun-holster-type pouch. Wear this style belt slung low on your hips and you're ready to hit the coffee shops.