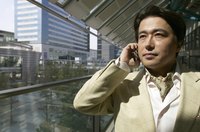 A scarf that is worn around the neck and tucked into the collar of a dress shirt is referred to as an ascot. The look derives from styles aristocratic men wore to the horse races at the Ascot Heath track in England starting in the late 1800s. This form of accessorizing is considered dressy and distinctive, almost to the point of appearing flamboyant since it is so uncommonly worn in current days.
Ascot Origins
At the dawn of the 19th Century, English gentlemen made the wearing of silk scarves looped around their necks and tucked into their shirt collars a popular look for a day at the race track. Originally thought of as dressy-casual day wear, the accessory known alternately as a "cravat" took on more formal applications when men started to adorn the neck scarves with ornamental pins.
Wearing an Ascot
An ascot completes the look of a dress shirt worn with a vest, a smoking jacket, a suit or a blazer. As opposed to a standard necktie, or a bow tie, which both can be knotted with varying degrees of intricacy, an ascot wraps simply around the neck and is looped once before being tucked into the shirt collar. Ornamental pins can be affixed to the ascot to hold it in place.
Famous Ascot Aficiannados
Throughout history, notable figures have worn ascots as signature accessories and helped to popularize the look. They include: British fashion trailblazer Beau Brummel (aka. George Bryan Brummel, 1778 -1840); Playboy magazine's publisher Hugh Hefner; deceased, Oscar-winning actor Marlon Brando; Sherlock Holmes series' actor Sir Basil Rathbone; cable news analyst Roland Martin; and legendary showman Liberace.
Ascots for Women
Ladies can add a stylish twist to an ensemble by making feminine adjustments to the ascot look. For females, the ascot fabric can be made of a more delicate grade of silk and feature vibrant solids or patterns. To stress femininity, the scarf should be a smaller swatch of fabric versus what the more masculine cravat is made from.