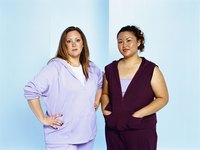 Choosing what to wear to the gym is motivating and fun for today's plus-size girl. Whether the choice is between loose-fitting cotton separates or skin-tight spandex separates, there are a slew colors, styles and accessories available. Everything can be paired or swapped out for another. It is important, however, to be comfortable and choose clothing that will maximize a workout.
Fitness-Class Fashions
Group exercises are supportive and fun for the plus-size girl, and can be a great social networking situation. Wear matching loose-fitting cotton pieces that gives for dynamic movement and allows for the skin to breath. Regardless of pants, shorts, capris, tanks, jackets or T-shirts, be ready to be in the vicinity of others. Thick cotton separates minimizes odor and will catch beads of sweat before they drop onto someone else.
Dry Sauna and Steam Room Adornment
While size-six women are steaming with a barely there towel, a plus-size girl can steam comfortably in a terry cloth elastiband body wrap. Essentially a skirt, the body towel wrap slips over the head or under the feet, and remains secure with the elastiband that encircles the under arm. The terrycloth body wrap also comes with a Velcro option for those who prefer to simply wrap the towel around them.
Calisthenic Styles
Floor exercises are preferred by women who avoid "bulking up" from weight lifting. Don a fashionable ensemble with yoga separates. For women who are uncomfortable with showing off their arms and legs, there are half-sleeved cotton spandex shirts that cover the arms. Yoga pants are designed to be flexible and conforming to the whole body; a plus-size girl will feel confident she will remain covered during the most dynamic body positions.
Cardio Accessories
It's a good idea to supplement workout gear with accessories and supports. Sweat bands help catch forehead and brow sweat before it hits the eyes. Unless the hair is a short coiffure, no woman can workout without the everyday scrunchie to tie her hair back. A head scarf is an alternative for women who prefer to keep their hair wrapped.
Shoe Comfort
It's important for plus-size women to wear tennis shoes that absorb shock. Running and jumping creates an incredible amount of shock and pressure on the joints. Wear shoes that are specifically designed to give support and comfort during a high-intensity workout.