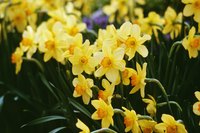 Healthy daffodil blossoms (Narcissus spp.) typically face the sun as they stretch taller for maximum photosynthesis along their leaves. Thriving in U.S. Department of Agriculture plant hardiness zones 3 through 9, these perennial bulbs withstand cool soil temperatures during the fall and winter for an early spring bloom. If your daffodils have a wilted appearance, however, they may be stressed by environmental problems or simply entering dormancy.
Watering
Strong daffodil blossoms easily wilt if their bulbs don't receive a sufficient amount of water. Unlike their summer and fall dormancy periods, bulbs need constant moist soil conditions during flowering -- the flower uses the nutrients and moisture stored in the bulb. As the bulb loses water to the growing foliage and blossom, it has to replenish the water, or flowers begin to wilt. However, your soil must remain well-drained. Soggy soil contributes to bulb rot and flowering failure. Carefully sprinkle water across the soil periodically to avoid wetting the foliage and compacting the soil.
Pests
Thrips and aphids use specialized mouthparts to cut into the daffodil foliage and flowers for access to the internal sap. Although just a few of these pests do virtually no harm, a large population causes widespread wilting and possible dieback. Pesticides or strategic ladybug populations typically control these pests. Below ground, bulb mites attack the bulb itself. They eat through the bulb, causing wilted daffodils. Because they often live inside the bulb as they consume the material, dig your bulbs after blossoms dieback and dip them in 120 degree Fahrenheit water to rid yourself of the pest.
Dormancy
Your wilted daffodils may be in response to natural bulb cycles. After blossoming, the daffodil slowly uses the bulb's nutrient resources. The flowerhead and foliage slowly dieback -- they are entering dormancy. Although unsightly, you need to allow the plants to wilt into a papery texture with a yellow hue. This dieback time allows the bulb to receive as much photosynthesis energy as possible for next season's blossoms. You may dig up the bulbs after 2 months of dieback or allow them to stay in the ground until next year.
Mold Consideration
To avoid daffodil wilting and mold next season, deadhead your flowers as they begin to enter dormancy. Natural mold appears on the daffodil heads as they decay and can infiltrate the bulb, possibly causing wilting issues for next year's growth. Remove the flower to prevent seeding. Strong daffodils grow from a nutrient-rich bulb. Producing seeds uses up the bulb's energy, contributing to poor future flower growth.