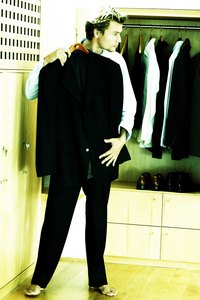 The ins and outs of menswear can be slightly confusing to the untrained eye. Take the tuxedo jacket and the blazer -- they may look similar, but if you can't tell the difference, you might find yourself committing a fashion faux pas. While one is appropriate for casual events, the other looks too fussy when worn during the daytime. Know the difference between the two, and walk out of the house looking dapper and well-dressed.
What is a Blazer?
According to the Merriam Webster dictionary, a blazer is "a sports jacket often with a notched collar and patch pockets." For those who are unfamiliar with the "patch pocket," this is simply a flat pocket applied to the outside of a garment. Solid colors, no patterns, and metal buttons also differentiate this jacket from a sports-coat or a tuxedo. Often a blazer's buttons are nautical, which can be interpreted as a homage to the Royal Navy. In the 19th century, the Royal Navy altered their uniform to a jacket closely resembling the blazer of today -- a sleek and un-fussy jacket.

How to Wear a Blazer
Wear a blazer to informal weddings (day and nighttime), semi-formal weddings (daytime only), business events, and dressy-casual events. When heading off to a business event, pair your blazer with a long sleeved button-down shirt, simple trousers, and a low leather shoe with laces to stay within standard etiquette. Bare in mind that the blazer is not to be worn for all occasions. For formal evening events, standard etiquette calls for a tux.

What is a Tuxedo?
Merriam Webster defines the tuxedo as "a man's single-breasted or double-breasted...black or blackish-blue jacket." You'll know this jacket by its satin covered lapels, matching pants with a satin stripe going down the outer leg, and cloth covered buttons.

How to Wear a Tuxedo?
The tux is meant to be worn for formal and semi-formal evening events such as proms, charity events, award ceremonies, and formal weddings. A black silk bow tie that matches the lapel facing, black wool or silk socks, and patent leather dress shoes are the finishing touches. Cummerbunds or vests are traditional accessories for the tuxedo, but these have fallen out of fashion lately, so it's okay to skip them. Just ensure that if you have a tux tailored, it creates a sharp, clean silhouette.