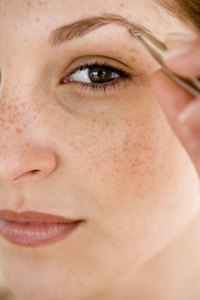 Figuring out what type of tweezers you need for a specific job can be tricky. What one does well, the other might not -- and vice versa. Choose the right tool to ensure the safety and comfort of your tweezing experience. Point-tip and slant-tip tweezers both have their advantages.
Slanted Tweezers
Slanted tweezers are most commonly made of stainless steel. They offer both a pointed tip that can be used for precision plucking and a broad, straight-bottom side that can be used to pluck several hairs at once . This duality makes slant-tip tweezers the most versatile variety you can buy.

Pointed Tweezers
Pointed tweezers, most commonly made of stainless steel, come to a sharp, direct point at the tip. This allows for extremely precise tweezing, but the sharpness of the tip makes them less versatile than slanted tweezers. You must use them carefully, with a steady hand, and always in a well-lit area.

Matching a Tweezer to a Job
If you are embarking on a tweezing mission that requires extreme accuracy, pointed tweezers should be your go-to. They are best-suited for removing splinters, yanking very short hairs or pulling ingrown hairs. Slanted tweezers are best for larger jobs that require more than one hair to be removed. They are ideal for plucking eyebrows or removing stray bikini line hairs. Slanted tweezers are not as sharp as pointed tweezers, so they can be used quickly without sacrificing safety.
Pointed Tweezers vs. Slanted Tweezers
If you only intend to buy one pair of tweezers, your best bet is the slanted variety. Simply put, they are safer than pointed tweezers. The dual nature of the tip allows you to perform precision tweezing without sacrificing safety. Plus, they can be used to cover larger areas more quickly than a pointed pair of tweezers, because the straight edge can be used to pull more than one hair at a time.