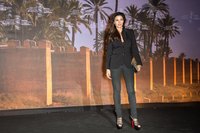 Even though black dress pants are a safe staple piece, wearing these principal pants can get boring. A pair of gray pants is an excellent substitute and work with the same outfits that black pants do. Slate bottoms sometimes work even better than black pants when matching certain metallic or leather embellishments. Just be sure to choose a fit and fabric that best suits your personal style.
Gray Skinny Pants
Monochromatic style using gray is sleek, elegant and a great alternate to black during the winter months when your skin hasn't seen much sun and black is too stark. Wear gray skinny pants instead and pair them with a heather gray chiffon blouse and charcoal gray suede pumps for a chic tone-on-tone outfit. A gray skinny pant and a black boyfriend style blazer are a beautiful way to play with a fashionable trend. The subtle contrast in a black jacket and dark gray pants helps you achieve the same lengthening and slimming benefits of an all black outfit but with a slight variation that makes it visually interesting.

Gray Trouser
A gray trouser pant is a more classic cut that is better suited for round or pear shaped figures. A wide leg, high-waist and belted trouser is a better choice for those body types. Be sure to wear gray trousers with a higher heel boot or pump and tuck in a fitted button down blouse. A single button black blazer will create a professional polish without diminishing the hourglass shape offered from this look. A gray slack with a black tuxedo strip down the side is another totally on-trend take on a dress pant and an alternative to a basic black suit. Wear a black blouse or a black T-shirt under a black jacket for an office outfit or a black tank top for going out.

Metallic Gray
Metallic gray pants are a trendier take for a dressy outfit. This style of pants play well with other fabrics. The sleek style lends itself to mixing materials such as leather, sequins, suede or cashmere. A pair of shiny gray dress pants and a black cashmere sweater with a sequined silver clutch is a symphony of textures. When you want to downplay the pizazz of shiny metallic gray pants, wear tall black suede knee boots and keep your top simple by wearing a plain cotton T-shirt or cardigan.

Accessorizing Gray
Accessorizing grays -- belt detailing, jewelry, purse buckles -- couldn't be easier because this neutral color works with both silver and gold. Gray pants with silver and black accessories mixes cool tones and gives your outfit a more classic vibe. Add gold baubles to your gray pants and your outfit is warmer and open to incorporating brown accessories. Either warm or cool tones are appropriate fashion choices for gray, just be sure to stick with one. If you wear a gold watch, wear gold earrings as well. Mixing metals has its place, but it should look planned -- a mix of gold and silver bangles -- not hit or miss.