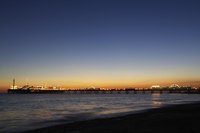 The black-faced blenny (Tripterygion delaisi) comes from a wide range in the Atlantic coast of Europe and the Mediterranean Sea. The fish is technically not a blenny but a "trifin blenny," though this distinction matters more to biologists than aquarium hobbyists. The black-faced blenny is closely related to the true blenny, though, with similar care and dietary requirements. The fish will eat a number of foods, including crustaceans and algae.
Benthic Invertebrates
Black-faced blennies live among rocky areas on the seafloor, and stay near the rocks, rarely venturing into open water. Because of this, the bulk of these blennies' diet consists of small benthic invertebrates. The word benthic refers to organisms -- like these blennies -- that live on the seafloor instead of open water.
Harpacticoids
One of the favorite foods of black-faced blennies is harpacticoids. Harpacticoids are a group of copepods, tiny crustaceans that resemble dimunitivie shrimp. Harpacticoids can be free-swimming or benthic depending on the exact species. Both benthic and free-swimming species are among the favorite foods of these blennies. You can purchase copepods from online aquarium suppliers.
Fish Eggs
Give the opportunity, black-faced blennies will readily eat fish eggs, like most fish. In fact, they will eat their own eggs given the chance. Fish eggs tend to be very rich in protein and lipids, as well as trace nutrients like vitamins and minerals. Black-faced blennies are among those fish who consider eggs a treat.
In the Aquarium
Black faced blennies are temperate to coldwater fish. This means they require specialized aquarium care, since most of the saltwater aquarium hobby is built around tropical species. In a properly equipped aquarium, most blennies adapt readily to aquarium foods. Blennies thrive when you feed them many small feedings throughout the day instead of one or two large meals. Additionally, blennies -- even mostly meat-eating blennies like this species -- benefit from having some algae in the tank. Blennies graze on the algae as well as on the small invertebrates living among the tufts of algae.